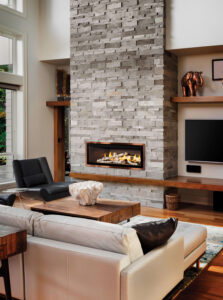 At Firelight by Barron, we know fireplaces! From gas to electric fireplaces, our hearth experts can help you find the right solution for your specific home and comfort needs. Right now is a great time to begin your search for the perfect fireplace solution, as the weather starts cooling down and we get ready to bring on the holiday season (it's right around the corner, after all!)
One type of fireplace we'd like to introduce is the Mendota fireplace. We are proud to work with Mendota Hearth, a division of Johnson Gas Appliance Co., the manufacturer of award-winning gas fireplaces, fireplace inserts, and gas stoves. Founded in Cedar Rapids, Iowa in 1901, Johnson Gas has been a leader in gas technologies for over a century!
Read on to learn more about Mendota fireplaces and their benefits.
High Efficiency and Reliable Gas Products
Since the beginning, Firelight by Barron has sought out fireplaces known for quality craftsmanship, and in an effort to provide the most efficient and reliable gas products, we are excited to offer the Mendota Hearth product line. Mendota is consistently ranked among the industry's most efficient fireplaces. You'll find peace of mind in that you can enjoy a lifetime of comfort when you contact us to install a Mendota fireplace that was built to last.
Each Mendota fireplace is safety-tested to ANSI/AGA standards and backed by a Lifetime Limited Warranty. While other home appliances and home comfort systems will wear down over time due to natural wear and tear, when your Mendota fireplace is properly installed and serviced, it will last for a lifetime. You should be proud to share your fireplace comfort with your family and friends, which is why you should choose Mendota!
"Is a Gas Fireplace the Best Option for Me?"
Many homeowners throughout our service areas find that a gas fireplace is the best option for them. A Mendota luxury fireplace looks and performs just like real a wood fireplace, but without the mess or the fumes. With the simple touch of a button, you can cozy up to the warmth of a fireplace without having to clean up after. Benefits include:
Convenient and Instantaneous Fire
Clean and Low Maintenance
Realistic Wood-Like Burning
Cost-Effective Fuel Consumption
Flexible Installation Options
Various Designs and Styles
If you have any questions, please don't hesitate to reach out to our team—our hearth experts are ready to help.
Our team of Home Performance Experts has served Whatcom, Skagit, Island, Snohomish & San Juan Counties since 1972 with a mission of Improving Lives™. We look forward to serving you! Contact Firelight by Barron today for your fireplace services.