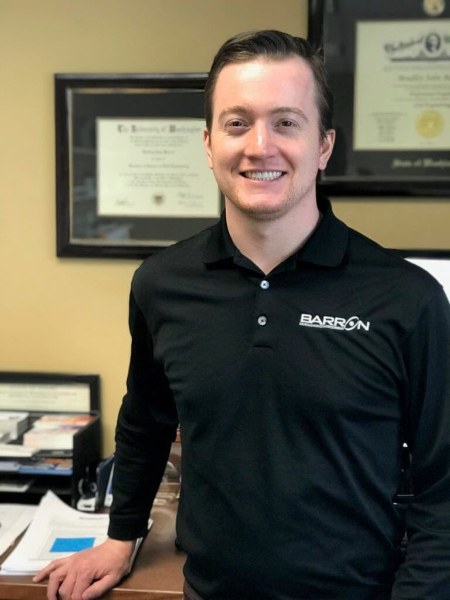 Brad B.
Chief Executive Officer
With his ingenuity, drive, and passion to think beyond the box, Brad has taken Barron by storm since joining the team in 2017. He was quick to shine in each of his roles, spearheading the expansion into full plumbing and electrical services, solar, Barron Technician School, and more. Now as Chief Executive Officer, Brad lives by a servant leadership philosophy—and always with a joke to share. With a Bachelor of Science degree in Engineering from the University of Washington (go Dawgs!), he spent a number of years as a Professional Engineer before bringing his experience to the Barron Team. Born and raised in Bellingham, he enjoys spending time outside with his family (wife and three sons) and friends—hiking, boating, skiing, and camping. Brad is a Volkswagen enthusiast and enjoys time behind the wheel of his 1979 Westfalia Camper.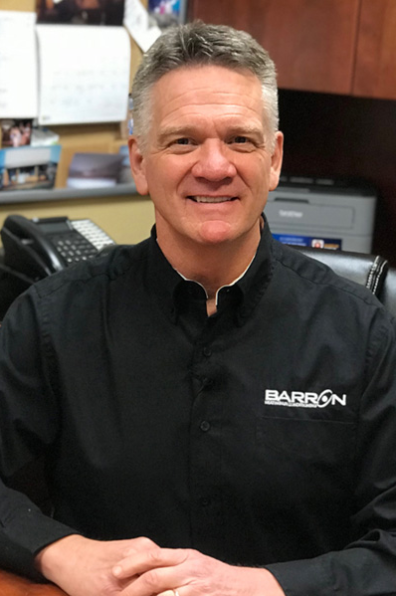 John B.
Owner, Executive Chair & Coach
No stranger to hard work, John started out working summers in high school at the original Barron Heating warehouse—sweeping up fiberglass insulation in the shop and even cleaning the bathrooms. But closely following in his father and grandfather's footsteps, he became a part-time sheet metal worker for the family business in 1979. And he's been a pivotal part of the company ever since. John became a journeyman and then a salesman, before stepping up as part-owner of Barron when his parents, Dan and Vivian, retired in 1998. John has a personality that is impossible to miss, with an intensity and passion for what he does and for his employees like no other. He never does anything halfway, and has a love for wrestling, skiing, and spending time on the lake and with his family.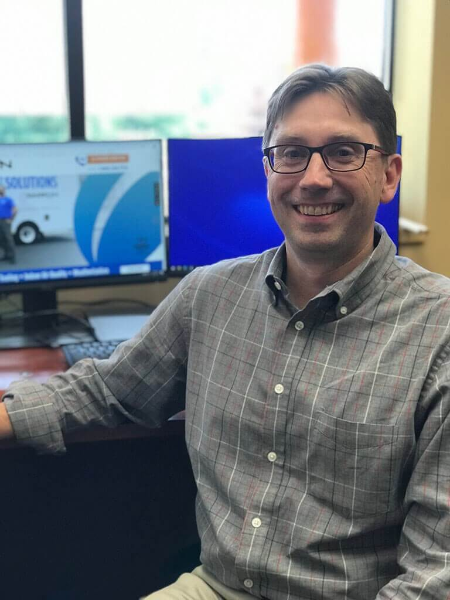 Merrill B.
Chief Operating Officer
With over 20 years of experience in Equipment Sales and Sales Management, Merrill makes great service and leadership look easy—with a healthy dose of spunk to boot! Joining Barron in Spring of 2019, he has been a wealth of knowledge for the Sales and Marketing Teams, stepping into the role of Chief Operating Officer in January of 2023. Merrill was born and raised in Whatcom County, but spread his wings to live in Walla Walla, Washington DC, and most impressively, China during college before returning to Bellingham. As a result, he speaks just enough Chinese to get into trouble and is always up for an adventure—now most commonly of the weekend variety around the PNW. He and his wife are avid music fans, hosting backyard concerts and attending shows as much as possible. He also loves to play tennis, golf, and read.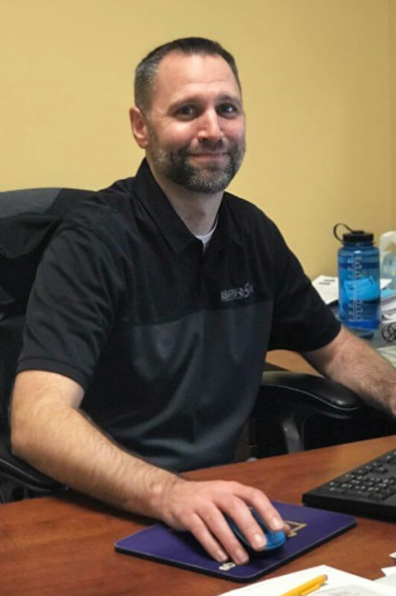 Patrick H.
Chief Financial Officer
Patrick has the beat on the financial workings behind strong companies, with over 15 years of experience in management and corporate accounting within the hospitality and manufacturing industries. And his knowledge of building and growing a company is reflected in his own experience growing up. Patrick was born and raised in the north woods of Minnesota with no running water or indoor plumbing—talk about appreciating the little things! He worked in Alaska to put himself through school, and received a Bachelors of Science degree in Business Finance. Always pushing himself, he loves competing at most anything. He's an avid golfer and sports nut, and loves spending time with his family and friends.
Christi B.
Director of Human Resources
Christi has been a natural fit for Barron, joining the HR team in 2022. Her fun personality and HR experience has been an asset from the get-go, with the majority of her professional HR career having been in transportation, supporting fleet and facilities employees. Christi loves backpacking, pickleball, soccer, and snorkeling in tropical waters, and in true northwest style, is always game for a good cup of coffee (or mocha-flavored ice cream!).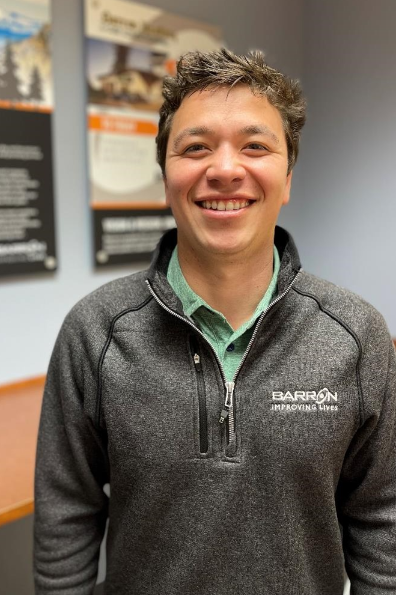 Michael T.
Director of Technology & Supply Chain
Another Bellingham native, Michael wears many hats—and with a noticeable smile. With a degree in Physical Chemistry, Building Performance was the perfect introduction for Michael's science background to the world of HVAC. Michael's drive and focus on the bigger picture quickly broadened his role at Barron Heating, and in his time with the Barron Team, he's hit the ground running—notably spearheading Air Solutions and Solar by Barron. Taking his hard work home, Michael enjoys working on projects around the house on the weekends. He's also a sports fiend and loves to both watch and play them.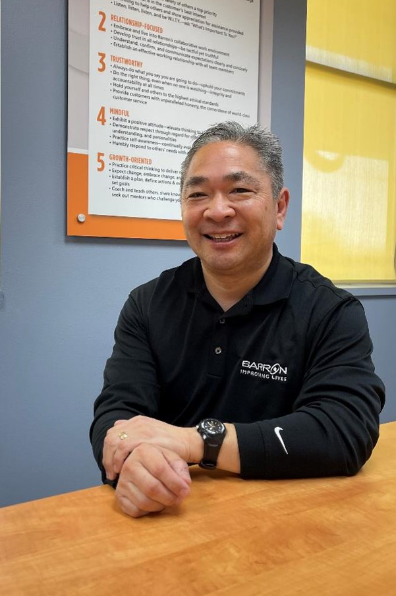 Rob T.
Director of Operations
With a Bachelor's in English Literature from WWU, years in the construction industry, as well as leading and managing a number of businesses under his belt, Rob has a wide range of experience to share. He joined the Barron crew in 2021 and fit like a glove, overseeing the ins and outs of Barron's four divisions. In true Barron fashion, family is everything to Rob. He loves spending time with his wife, kids, and grandkids, and feels pretty lucky to get to work with four of his family members every day. Rob's also quite the cook—he's known for barbecuing and smoking food on the regular (YUM!).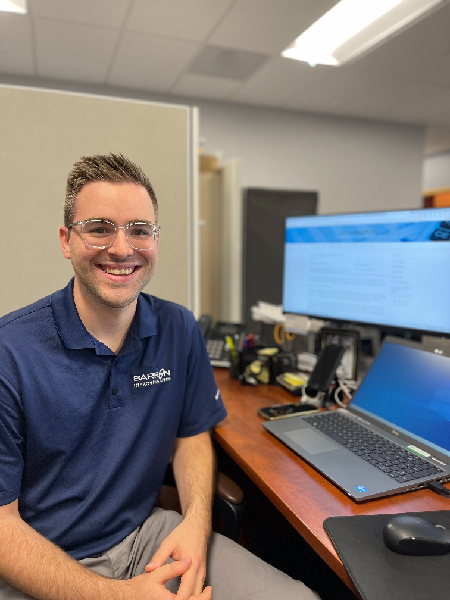 Adam V.
Accounting Manager
Adam joined the Barron team in the summer of 2022, sharing his experience of bookkeeping and tax accounting from local businesses. Like a true native, Adam is a Whatcom-County-lifer—born in Bellingham, raised in Everson, and living in Lynden with his wife and young daughter. He loves spending time with his family, friends, and excitable goldendoodle, and is an avid reader, ice water drinker (cheers to hydration!), and lifelong Seattle Mariners fan. Adam has a passion for accounting, and says "I love to allow numbers the chance to tell their story and to make sure that they are presented in a way that serves those who come across them." Who knew accounting could be so cool?!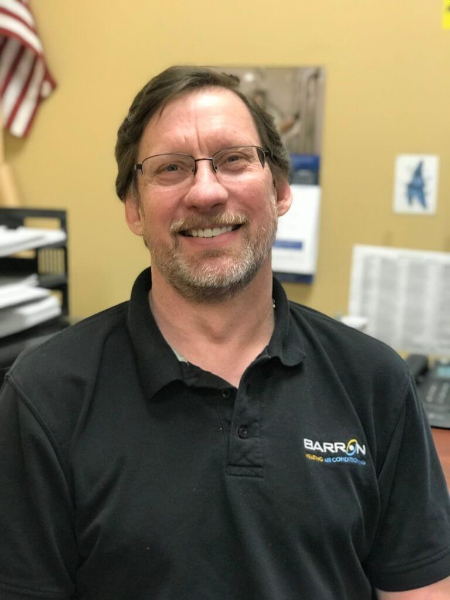 Bryant M.
HVAC Retrofit Manager
Going on 25 years with Barron  and 35 years in the industry, Bryant is an HVAC ace. From his dedication and hard-working attitude to his bulk of experience, he's an obvious go-to here. A Southern California boy, he moved to Washington to join the Barron Team in 1995 and has been here ever since. Bryant is a man of many talents, brewing beer, bowling and rocking a brown belt in Goju-ryu Karate, to name a few. He also enjoys kayaking and spending as much time as possible with his wonderful wife.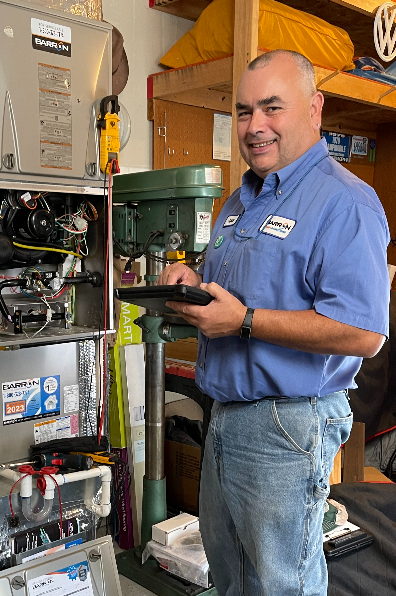 Carey J.
Technical Service Manager
Carey is one of Barron's sweethearts, with a dash of goofball that keeps everyone smiling—just ask his eye-rolling wife! Working his way up from the field to management, Carey's experience and a slew of certifications make him a wealth of knowledge—not to mention his dedication to his team and customers alike. And with a heart like Carey's, it's no wonder serving people is something that keeps him going from day to day. He and his wife love spending time with their children and grandchildren, and his weekends are often spent hunting, fishing, working on home upgrades, and helping friends.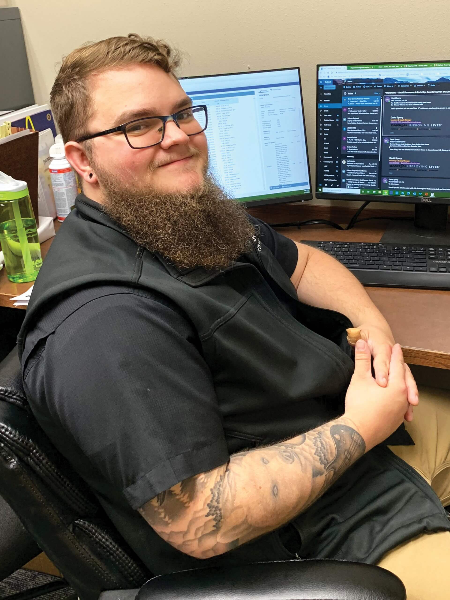 David S.
Inventory and Supply Manager
As Inventory and Supply Manager, David is the kind, composed, easygoing sort of guy who's a go-to for just about anything. Gardening, hiking, biking, cooking, and writing music for guitar and bass are all his jam, as is picking up the ukulele (next up is mandolin). And with a Certified Green Belt in Lean Six Sigma methodologies (working to Black!), he has a noticeable air of responsibility and dedication to boot. With years of management in large retail stores tucked under all those belts, he's a natural addition to Barron's Leadership Team.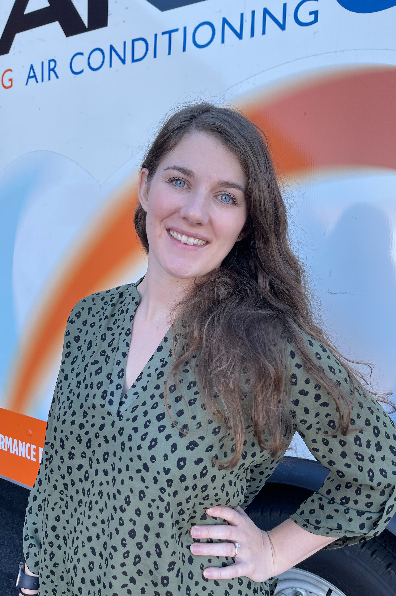 Hannah D.
Customer Experience Manager
Born and raised in the Pacific Northwest, Hannah is another true local. With five generations of family on Whidbey Island, the PNW runs in her blood. A University of Washington grad, Hannah's background is in customer service and office management, and she's no stranger to hard work—sandblasting metal parts for her dad's metal finishing company at a young age. Hannah loves snowboarding with her friends and family, going hiking and on dog walks, playing baseball, and enjoying the water—fun fact—she's a certified scuba diver!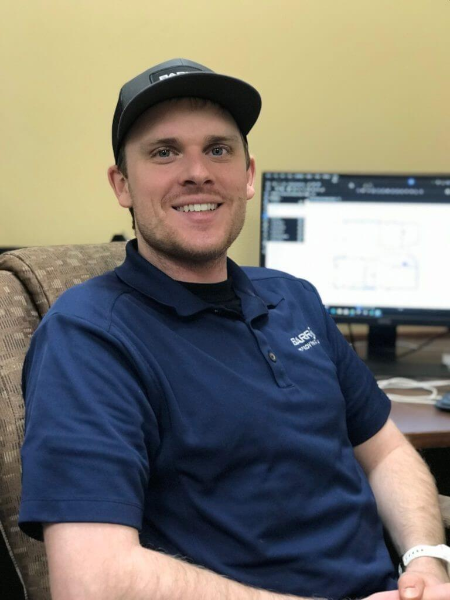 Jake M.
Construction Sales Manager
Jake was born and raised in the beautiful PNW, and aside from a short stint in Los Angeles, he's been a Washington native his whole life. An adrenaline and endurance junky, he loves exploring the great outdoors via hiking, biking, kayaking…pretty much anything that gets his heart-rate climbing. 2018 was a big year, as he became a new parent with his wife, completed his first Ironman Triathlon, and moved across the state to join the Barron Team. With a degree in Economics focusing on Business Forecasting and Mathematics, he has worked for several years in various roles within the construction industry. His drive and business know-how makes him a natural leader in the new construction market.
Jamie M.
Marketing Manager
Growing up in Marysville, WA, Jamie moved up to Bellingham for college and never left. She received a Bachelor's Degree in Marketing from Western Washington University and has been immersed in the field ever since. Bringing her larger-business marketing experience, she joined the Barron Team in 2017. She continues to bring a fresh, new perspective to the company, helping to make HVAC fun, reachable, and relatable to Barron customers. Jamie enjoys spending time with her family (they're her favorite), working out, wakesurfing, and camping. She's a lover of outdoor activities—especially by the water and in the sun.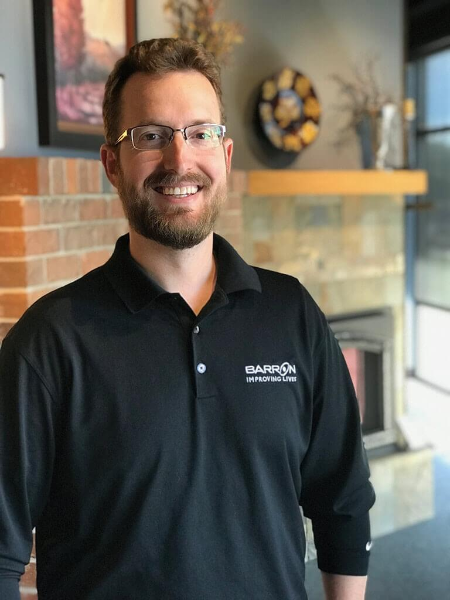 John B.
Outside Sales Manager
John B. just fits with Barron—maybe it's his name (Owner John B. approves!), or maybe it's his nearly 20 years of experience in multiple facets of the retail world. John was a Lead Visual Merchandiser/Designer and Store Reporter for the Navy Exchange before climbing the ranks at a long-established department store from Supervisor roles to General Manager at both large and small volume locations. As a "military kid," he's lived all over the U.S., but 12 years after he left Bellingham for the first time, he's excited to be back. He, his wife, and their busy Yellow Lab, Indy, love spending time with their families, hiking and riding trails on the weekend, and frequenting the dog park. And as a multi-instrumentalist and songwriter, creativity and craftsmanship run in his veins.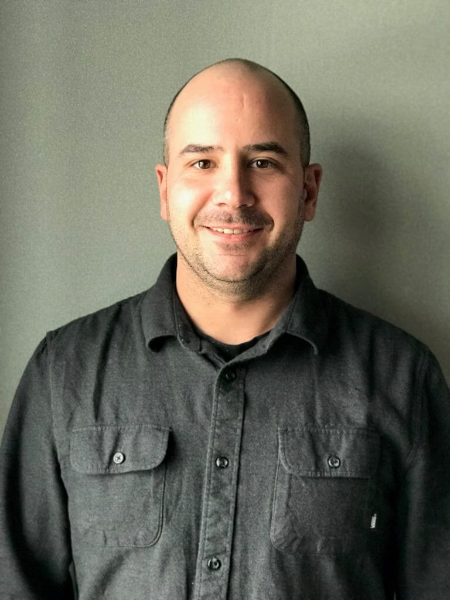 Jordan F.
Plumbing Service & Operations Manager
Joining the Barron Team in November of 2018, Jordan leads one of the company's newest divisions—Barron Plumbing. With over 15 years of background in the plumbing field under his belt, he brings much knowledge and experience to the expanse of Barron offerings. He is a Certified Tankless Water Heater Installer as well as a Service Technician and is a natural leader in service. Born in Seattle, he has been a Bellingham-local for 33 years. His weekends are spent hanging out with his kids as much as possible, including lots of soccer games and gymnastics practices!
Micah M.
Team Development Manager
After graduating from WSU (sorry, Brad!), Micah kicked off his career in the hospitality industry, working as everything from valet to Resort Manager. He eventually pivoted his focus to human resources, managing the HR departments for three hotels in the Seattle area. Now serving as Barron's team development manager, Micah focuses on growing and strengthening the workforce through employee development and retention, supporting Barron leaders, and encouraging the purpose-driven culture the team strives for. Micah enjoys playing and watching any and all sports, traveling to new places, and exploring what Whatcom County has to offer with his wife. His perfect weekend would be spent waking up early on a Saturday and mowing his lawn with a cup of black coffee—ahhh, the little things, Micah!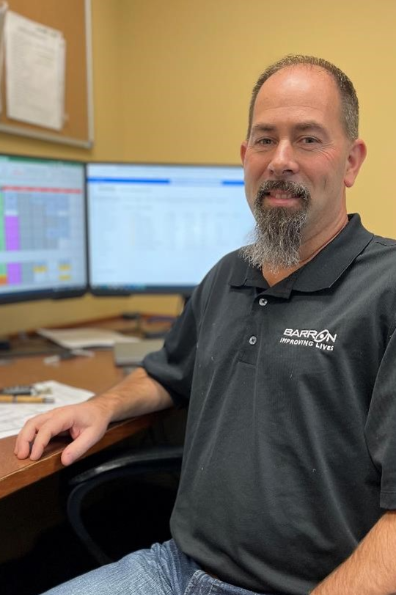 Mike S.
HVAC Construction Services Manager
Mike started out in the construction trades at just 19 years old and has been learning and challenging himself ever since. With years of experience as a carpenter and HVAC technician, as well as a superintendent and project manager in residential and commercial HVAC and general construction, he brings a wealth of knowledge and skill to Barron's HVAC Construction Services department. No stranger to the PNW, Mike moved from Northern California and has been living in Whatcom County since the late 70's. He enjoys traveling the world and creating fabulous meals in the home he and his wife designed and built—looking forward to our invite, Mike!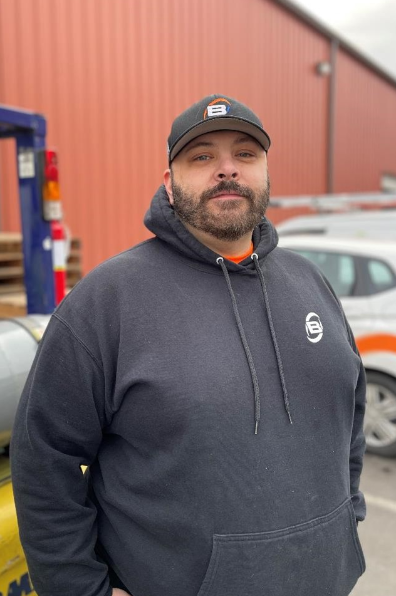 Scott J.
Warehouse Manager
With 20+ years of warehousing already under his belt, Scott joined the Barron team in late 2022. But his wide range of experience doesn't stop there. Scott's background also includes heavy construction management, heavy equipment operation, auto mechanics, forestry, lumber and hardware, grocery, and more. Born and raised in Alaska, he's since lived all over the PNW before landing in Bellingham. Scott loves anything motorcycle, from riding to fixing, and enjoys traveling as much as possible with his wife as well as homebrewing beer.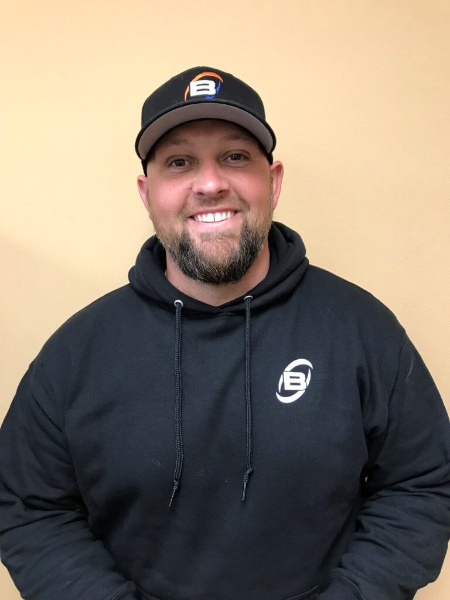 Tim W.
Electrical Service & Operations Manager
An 01 Licensed Journeyman with over 17 years of experience in the electrical field, Tim has gained experience in everything from custom homes to commercial service to solar and more. Joining the Barron Team in the Fall of 2018, he is an exciting asset to the growing electrical division. Tim was born and raised in Bellingham, WA, but now lives in the Great White North in Langley, BC. He spends his weekends playing hockey, coaching, and having fun with his family. And he's always planning for the next sunny place to vacation—can you blame him?!