About Barron Heating AC Electrical & Plumbing
Barron Heating AC Electrical & Plumbing is not just an HVAC contractor. We are an HVAC contractor who takes a unique approach to home services. We look at your total home performance rather than just sell you systems and services. This is why we call our sales team Home Performance Experts. This is our "Beyond the Box" approach--we focus on WholeHome™ solutions based on our three pillars:
Comfort
Health
Energy Efficiency
Since 1972, we have been serving the home performance needs of Northwest Washington residents. We are your full-service HVAC contractor, designing, installing, and servicing both residential and commercial HVAC systems. Comfort goes way beyond heating and cooling! As your Home Performance Experts, we provide electrical, plumbing, indoor air quality services, and more.
Barron, your full-service HVAC, Electrical and Plumbing Contractor. Our Mission: Improving Lives™!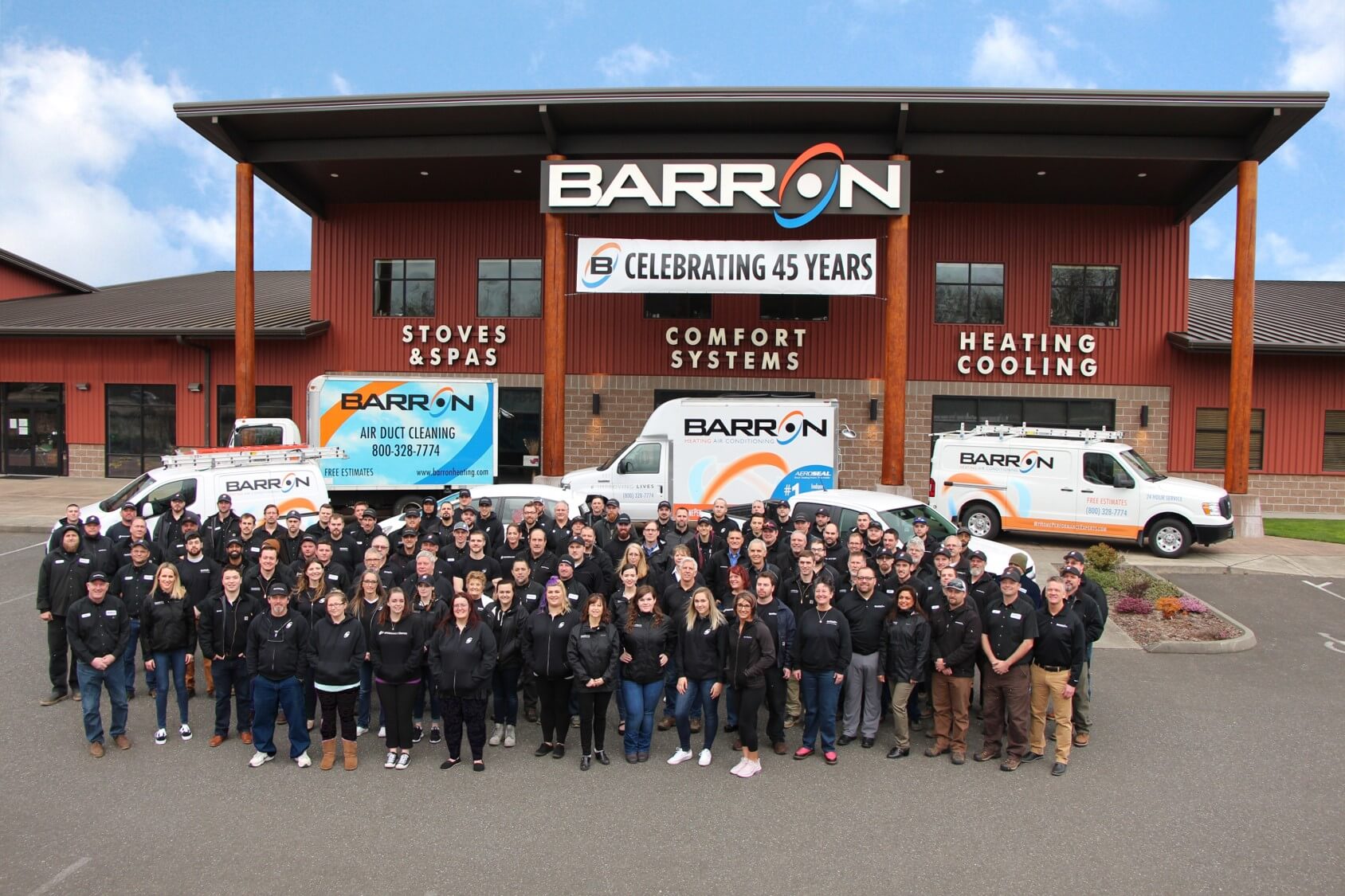 Who We Are
Barron Heating AC Electrical & Plumbing has a broad and diverse set of products and services. We are a full-service HVAC, Electrical and Plumbing contractor that also offers weatherization services, indoor air quality solutions, and has a full catalog of hearth products. Our Home Performance brands include:
Barron Heating & Air Conditioning: Come by one of our showroom locations in Burlington or Ferndale to explore our full-line, working furnace displays and to experience the unique warmth of a functioning radiant floor heating display.
Air Solutions by Barron: Our Air Solutions department exemplifies our overall "beyond the box" approach to service and WholeHome™ ventilation, including our exclusivity to sell Aeroseal® Duct Sealing in our territory.
Firelight by Barron: Our showrooms also include 100+ beautiful stove and fireplace displays--many of them burning models of gas, wood, or pellet fuel.
Barron Electrical and Solar by Barron: We offer WholeHome™ generators and comprehensive solar power solutions. Visit one of our showrooms to learn how solar power can completely transform your home and your energy bills!
Barron Plumbing: We provide water heater services, plumbing services, and reliable plumbing repairs.
Our Community Involvement
We are a family-run business that aims to give our customers a personal touch that you'd expect from your local "mom & pop shop," but with comprehensive products and services you won't find anywhere else in our community. And our community means everything to us!
We support the residents of Whatcom, Skagit, Island, Snohomish, and San Juan Counties through a variety of programs, including our wintertime furnace fund, our Christmas in July program, our Game Changer program in support of high school athletics, and through the Dan L. Barron Trades Scholarship for individuals looking to enter the HVAC, Electrical, or Plumbing trades. Contact us for more information, and be sure to ask about the Barron Technician School!
Our Core Values
Everything we do for our customers here in Bellingham, WA and throughout Northwest Washington ties back to our 5 company core values.
People-First
Relatioship-Focused
Trustworthy
Mindful
Growth-Oriented
An Animated Tale About What Makes Barron Different:
Call Barron Heating AC Electrical & Plumbing today! We've got a number of affordable ways to make your life more comfortable, healthy, and energy efficient, with your 100% satisfaction guaranteed. We are your Northwest Washington Home and Building Performance Experts since 1972!