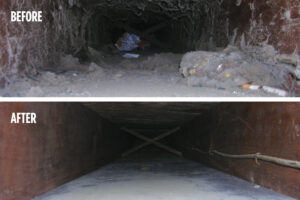 Our Air Solutions by Barron team understands that your indoor air quality is about so much more than simply the temperature of the air in your living space. This is, of course, a very important part of your overall comfort, but just part of the equation. From duct cleaning and air sealing to air purifier and filtration services, we have everything you need to breathe easier in your home.
One service in particular that we are proud to offer to improve your overall indoor air quality is weatherization. We take pride in our WholeHome™ ventilation approach that addresses your full indoor air quality needs, rather than simply just selling you equipment. Read on to learn more about what our weatherization service includes and how it helps improve your household comfort and health.
Crawl Space Repair
Too much humidity can create quite a problem for the structural integrity of your property. Humidity is too high when the relative humidity level is above 50%. At this point, the ground cover or vapor barrier beneath your property needs to be in quality shape for you to avoid wood rot and mold growth.
With the right ground cover and crawl space repair, you'll be able to keep moisture out, in addition to keeping out rodent debris that can also contribute to a poor indoor air quality environment. More on that below!
Air Sealing
Homeowners often don't realize this, but anything that's able to penetrate the subfloor of your home could potentially introduce "bad" air into the space. This includes registers, plumbing connections, your ductwork, and electrical or communication wiring.
The Department of Energy recommends air sealing for most homes, due to common building standards. Air sealing will make the air in your home less polluted, plus it will improve the efficiency of your HVAC systems, too.
Insulation
Insulation plays a huge role in the temperature of your home in addition to your indoor air quality. Insulation prevents heat transfer, creating a barrier from the heat in the summer, and disallowing heat from escaping in the winter.
When combined with the right air sealing service to prevent the infiltration of fiberglass, the right insulation will benefit each and every member of your household. Whereas damaged insulation can invite in pests and create some nasty problems, such as bad odors.
Rodent/Pest Control
Nobody likes to think about having a rodent or pest problem in their attic or crawlspace. But without the above mentioned services in place, this can become a reality for your living space. The odor from rodent urine or even dead rodents and pests can create a serious problem in your home.
Our Home Performance Technicians will remove and clean up rodents and their debris, and then we will replace damaged materials. Our rodent and pest control service also includes plugging up possible pathways that rodents can find in your crawlspace, and we'll help you find out what may be attracting them in the first place.
Please don't hesitate to reach out to our team to learn more about our comprehensive weatherization services!
Our team of Home Performance Experts has served Whatcom, Skagit, Island, Snohomish & San Juan Counties since 1972 with a mission of Improving Lives™. We look forward to serving you! Contact Air Solutions by Barron today for professional weatherization service.