Save Up To $1,800 on Select Daikin Ductless Models

www.barronheating.com
360-676-1131
Save Up To $1,800 on Select Daikin Ductless Models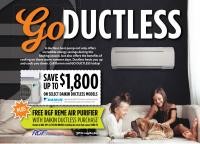 PLUS receive a FREE RGF Reme Air Purifier with your Daikin Ductless purchase (*while supplies last).

The RGF Reme Air Purifier is known to KILL 99% of TESTED VIRUSES including the virus that causes COVID-19!

A ductless heat pump not only offers incredible energy savings during the heating seasons, but also offers the benefits of cooling on those warm summer days. Ductless heats you up and cools you down. Call Barron and GO DUCTLESS today!