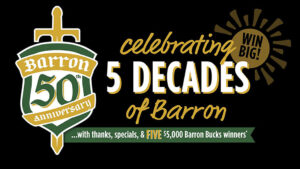 In celebration of our 50th anniversary, from October 24th, 2022 through November 30th, 2022, Barron is giving away $25K in Barron Bucks–$5k per decade.
This giveaway is open to anyone who books an appointment with us for any reason–you'll automatically be entered to win $5,000 in Barron Bucks! Five winners from all entries will be randomly chosen and announced on Thursday, December 1st, 2022.*
Join Our Showroom Celebration!
When: Thursday, November 10th
Time: 11 A.M. – 1 P.M.
Where: Burlington Showroom
560 S Burlington Blvd.
Burlington, WA 98233
What: Grab a bite to eat, enjoy some cake, play games, win prizes, and more!
PLUS: Get an EXTRA ENTRY for $5,000 Barron Bucks
*No purchase necessary. Visit barronheating.com/50th for details.