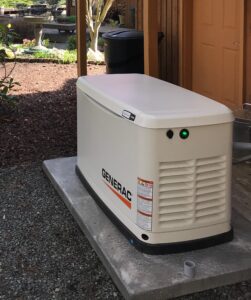 A common question Northwest Washington residents ask themselves is if something like a whole-house generator is necessary for the comfort and safety of their home. The short answer to that question is that if you would like the assurance that your home will continue to have HVAC service, lighting, refrigeration, and even water when the power goes out, then yes, a WholeHome™ generator installation from Barron Electrical is worth your consideration.
Our Generac and Honeywell WholeHome™ generators far surpass what a portable generator can do. While a portable system can handle one or two appliances at a time, a WholeHome™ system will keep your entire household in operation. Additionally, the WholeHome™ option is safer than a portable system that relies on propane or oil to operate.
Ask us too about the Silver Shield Electrical Preferred Membership with Barron. With this membership, you'll receive a WholeHome™ electrical safety inspection that includes checking on all the electrical components in your home to identify common problems such as degraded wiring, oversized fuses and breakers, and much more–all at a $295 value! This also includes comprehensive performance maintenance–an annual multi-point precision tune-up on your solar power inverter, battery system, or Barron-installed Generac or Honeywell generator!
Read on to learn more about the benefits of a WholeHome™ generator then give us a call when you're ready to schedule installation.