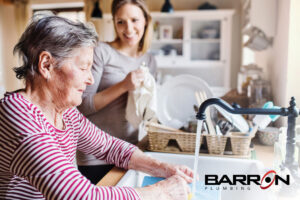 Homeowners may not often realize this, but plumbing companies experience 50% more calls during the holidays. Why is this? A large part of it is the heavy food prep that goes into the holidays, and the kitchen plumbing catastrophes that happen as a result.
This isn't the only place drains get clogged, though… there are also your bathrooms to consider, which get a lot more traffic when you have holiday guests! Then you have to think about whether those guests are staying overnight—this means they'll be using your hot water to take showers and helping themselves to your drinking water and perhaps even your washing machine for their laundry.
This is all great, but what about your plumbing system—is it getting overworked? Fortunately, you can prevent some common holiday mishaps with a WholeHome™ Plumbing Inspection beforehand. Read on to learn more!