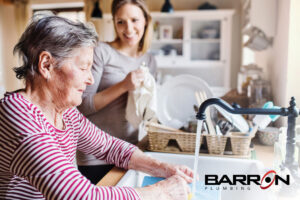 It's our hope that you made it through the holiday season without any huge plumbing mishaps. After all, it's the most popular time of the year to need a plumber, whether it's for clogged plumbing in the kitchen or in the bathroom of your home. Water heaters tend to get a lot of wear this time of the year too, as homeowners tend to have more guests using their showers and such.
Of course, the holiday season isn't the only time of the year you can have a plumbing problem, particularly a drain clog. In fact, this is one of the most common reasons homeowners call a plumber in our area–and you should call a plumber!
It's important that you not rely on store-bought drain cleaning chemicals when experiencing a clog, as these are very caustic and can actually do more harm than good for your plumbing system (more on this below). In the meantime, there are some things you can do to prevent drain clogs from forming, to begin with. Read on to learn more.