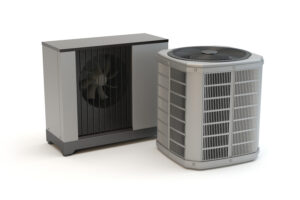 Heat pumps are the highly energy-efficient alternative to central air conditioning, boilers, and gas furnaces. But do they actually replace all of those different HVAC units at once?
Yes and no. There are some operating restrictions, such as extreme temperatures, but heat pumps really can do the job of both a furnace and air conditioner.
They work differently than you'd expect. Let's start right from the beginning.
Heat Pumps Transfer from Sources
There are two types of heat pumps. The first one is air source heat pumps, which move air from inside your home to the outside of your home. They don't actually generate new heat; they move or "pump" it from one area to another.
Then you have ground source heat pumps, sometimes referenced as geothermal heat pumps. These use a closed loop system that's either filled with water or refrigerant. It moves through pipes that go into the ground outside.
When it's cold out, water or refrigerant actually heats up as it travels through the underground pipe. When it comes back to the surface, the heat that it generates is then pumped into your home.
They're Also Air Conditioners
Take that as literally as you want–heat pumps have identical functions to air conditioners. They use refrigerant and pull hot air from inside your home, releasing it outdoors, and pushing cool air into your living space.
There's no distinct difference in the operational capabilities of heat pumps over air conditioners for cooling your home. Both are effective solutions, but only one doubles as a heater.
We Need to Talk About Efficiency
Heat pumps are extremely energy efficient, but this changes based on the temperature. In extreme cold, heat pumps have a hard time because they're not actually generating new heat.
The amount of energy your heat pump will use to heat your home increases as the outside temperature drops. In most climates in the US, heat pumps will work effectively and extreme ranges shouldn't be a major issue if you're considering switching to a heat pump.
Our team of Home Performance Experts has served the I-5 corridor from Blaine to Marysville, Oak Harbor to Concrete, and the San Juan Islands since 1972 with a mission of Improving Lives™. We look forward to serving you too! Contact Barron Heating & Air Conditioning today for heat pump installation.