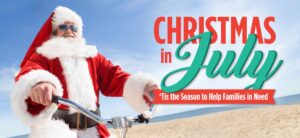 Winters are hard enough when you have sufficient heating, but when you need a heater replacement? It's all the more difficult.
That's why we're happy to announce Christmas in July–our way of serving the community we know and love with the gift of a warm home.
This July, we're donating a Single-Zone Daikin Ductless Heat Pump to three families in need, and we're not stopping there. There's a way you can help other families in the upcoming cold season.
For every new Daikin comfort system purchased between the time of this post and August 31st, 2023, we're adding $100 to our Furnace Fund to help local families in need of new furnaces this winter.
By being a Barron customer, you're not just heating your home–you're helping local families get through another winter with one less worry weighing down on their shoulders.
We're accepting recommendations for families in need of Single-Zone Daikin Ductless Heat Pump from now through July 31st, 2023.
Barron, your full-service HVAC, Electrical and Plumbing Contractor. Our Mission: Improving Lives™