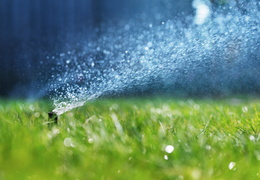 The unbearable heat may still be a couple of months off, but there's no time like the present to start prepping your home for warmer temperatures. This means ensuring your HVAC systems are inspected and ready for service, and also that your outdoor plumbing is ready for increased use.
From issues such as corroded hose bibbs to a damaged sump pump, there are a few ways your plumbing system can fumble your summer plans, but not if you're well prepared! Read on to learn more. 
Check On Your Hose Bibbs
During the month of May, Barron is offering a promotion on hose bibbs–the outdoor faucets where you connect your hose. We know our customers like to get outside and start gardening, and we want to help you prepare!
If your hose bibbs aren't cared for properly, they can create issues for your plumbing system and your home. This is also the case if they're older. Check for signs of rust and corrosion, as this can lead to leaks. If you are ready to have new hose bibbs installed, reach out to our team!
Maintain Your Sump Pump
Your sump pump should be professionally inspected at least once a year to ensure its working as it should. However, it's also a good idea for homeowners to visually inspect and test their sump pumps as well, at least once a quarter. It's not a bad idea to also check it every time it gets used during a heavy rainstorm or flooding.
Clean the Gutters!
Debris such as twigs and leaves can collect in your gutter over the winter and early spring, and as a result can create clogs that create water damage to your eaves, trim, and even your home's foundation.
Additionally, clogged-up gutters can encourage rodent and pest infestation–these pests can make their way into your attic and destroy insulation and more. 
Pay Attention to Low Water Pressure
A decline in water pressure is generally a sign that your plumbing system has a leak, or potentially even a clog. If low water pressure is only happening in one fixture, cease using that fixture until one of our professional plumbers can take a look. If the problem is more widespread, please give us a call right away as the problem can be serious–indicating a blockage or leak in the main water line.
Contact Barron Plumbing today to get in touch with a professional plumber in Bellingham and throughout Skagit or Whatcom County. Your full-service HVAC, Electrical & Plumbing Contractor. Our Mission Improving Lives.
Outside of Whatcom & Skagit County plumbing service and installation offerings vary by location. Call or visit our city pages for more details. We look forward to serving you! Contact Barron Plumbing today.