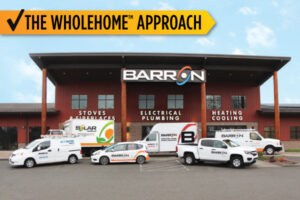 At Barron, our mission is "Improving Lives™" and we take this very seriously. This means when we ask, "is your home performing at its best?" we really want to know, and we want to help ensure this is the case with our WholeHome™ approach.
We offer Silver Shield Membership Plans that provide peace of mind by bringing your HVAC, Electrical, and Plumbing equipment back to its original operating specifications. From the ductwork or plumbing that runs beneath your crawlspace all the way up to your attic, we prioritize your home comfort plus the health and energy efficiency of your home.
Our Silver Shield Members are always at the front of the line, and never pay overtime rates for service. With plans as low as $20 per month, we'll keep your systems running reliably and efficiently all year long, and for the years to come. Read on to learn more about why this is so beneficial for your home.
The Undeniable Benefits of Our Trade-Specific Plans
Whether it's your HVAC systems, electrical wiring, or plumbing system, routine professional performance assessments and inspections are vital. This helps each of your systems work reliably and more efficiently. It also enhances the lifespan of your systems and helps reduce repair needs–in fact, 85% of your HVAC repair needs can be avoided by keeping up on performance maintenance!
Our Silver Shield Preferred Memberships take the onus off of you for scheduling tune-ups for each of your systems each year.
Why should you sign up for worry-free WholeHome™ Coverage today? Each of our trade-specific plans includes:
WholeHome™ Performance Assessment
Comprehensive Performance Maintenance
Priority Service: You're always at the head of the line!
No Overtime Rates…Ever
20% Service Discount
One-Year Workmanship Guarantee
Equipment Upgrade Discount
Our Home Performance Experts are committed to finding the most effective ways to optimize your home comfort, improve your home's indoor air quality and health, and increase energy efficiency.
Our team of Home Performance Experts has served the I-5 corridor from Blaine to Marysville, Oak Harbor to Concrete, and the San Juan Islands since 1972 with a mission of Improving Lives™. We look forward to serving you! Contact Barron today to learn more about our Silver Shield Membership and to schedule service!