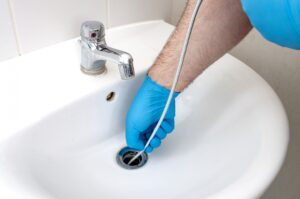 Slow draining sink? Before it causes bigger problems, it's time to take hold of our current special and deal with that slow draining sink once and for all.
Right now, Barron Plumbing is offering a $100 Slow Sink Drain Cleaning to resolve a sluggish drain before it backs up. With this deal, you don't just get a drain fixed–you also get a WholeHome™ Plumbing Inspection and Sink Drain and Trap Cleaning included for a limited time.
What Our WholeHome™ Plumbing Inspection Includes
Fixing your slow draining sink is great, but the benefits of our WholeHome™ Plumbing Inspection takes it one step further. We proudly offer:
Dye testing of all toilets
Cold and hot water supply line inspection
All sink piping inspection
Fixture drain inspection
Emergency shut-off operation check
Water pressure check
And more
It's time to take care of your drains and the rest of your plumbing system at the same time. This offer won't last long–call Barron Plumbing today to learn more and schedule your Slow Sink Drain Cleaning Special.
Why You Shouldn't Wait on Drain Clogs
A clog may seem harmless. Your water isn't going down as fast, but the problem isn't just a full sink that you have to wait on. Clogs can cause backup in more than just the drain it affects.
Clogged drains can cause issues with other drains in your home, resulting in backup. That's when drain water (and even sewage) comes out of your drains and flows into your home.
After you use your $100 Slow Sink Drain Cleaning Special to fix the problem with your drains, your WholeHome™ Plumbing Inspection acts as a point of inspection for the rest of your plumbing system so you can be sure there are no additional problems. Take advantage of this offer before it's gone.
Our team of Home Performance Experts has served the I-5 corridor from Blaine to Marysville, Oak Harbor to Concrete, and the San Juan Islands since 1972 with a mission of Improving Lives™. We look forward to serving you too! Contact Barron Plumbing today for service.