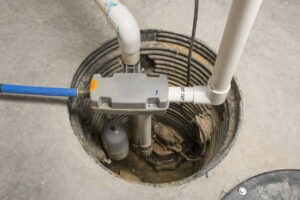 Chances are, you don't think a whole lot about your sump pump until you actually need it. And with all the recent flooding we've had in the area, there's a very good chance that many of our customers needed theirs. The problem with outdoor flooding is that it typically leads to basement flooding, and unless it's catastrophic, the sump pump is the only thing that can help prevent property damage and damage to appliances and systems kept in the basement. 
Weather is unpredictable. The functionality of your sump pump shouldn't be, though. While storms can happen at any time, pulse plumbing accidents and mishaps can occur seemingly out of the blue, causing water to gush down into the lower areas of your home, you can prevent damage in many cases. Read on to learn how. 
Tip #1: Schedule Routine Sump Pump Maintenance
The ideal way to avoid surprise sump pump failures or emergency repair needs is to invest in routine sump pump maintenance. This really is your best defense against basement flooding, particularly when you find yourself in the middle of an unpredictable weather event.
Sump pump inspections are recommended about once a quarter, or after every time the sump pump gets used. You can do a quick test on your own to make sure it's working and there is no visible damage. But on an annual basis, your system should be checked by the trained and experienced home performance experts here at Barron Plumbing. We'll check:
The drainpipe that leads out of your home. There might be excessive debris buildup that can require a comprehensive cleaning.
The electrical components of your sump pump. We'll look for indications of damaged wiring or damaged connections.
Mechanical failures. This might include a stuck float or stuck check valve.
During your quarterly self-inspections, you can and should test your sump pump's functionality by pouring a bucket of water into the pit and ensuring that water moves out quickly enough. Call one of our plumbers right away if you suspect or notice an issue!
Tip #2: Have a Battery Backup
Your sump pump runs on electricity. The potential issue with this is that weather events that lead to flooding are often accompanied by power outages. For this reason, it's never a bad idea to have a battery backup for your sump pump!
Tip #3: Know When It May Be Time to Consider a Sump Pump Replacement
When well maintained, the average sump pump can last about a decade. If yours is nearing this age or is older than this, and is requiring numerous repairs, it could very well be time to give our plumbers a call and start exploring your replacement options!
Contact Barron Plumbing today about a sump pump. When you're looking for a Plumber in Skagit or Whatcom County, look no further than Barron. Your full-service HVAC, Electrical & Plumbing Contractor.
Our Mission: Improving Lives. Outside of Whatcom & Skagit County plumbing service and installation, offerings vary by location. Call or visit our city pages for more details. We look forward to serving you! Contact Barron Plumbing today.