Media Contact: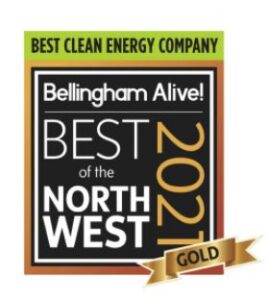 Brad Barron
COO
(360) 410-9001
Sept. 21, 2021
Barron Heating AC Electrical & Plumbing wins award for Best Clean Energy Company
Barron Heating AC Electrical & Plumbing has been named the Best Clean Energy Company in Northwest Washington.
Readers of Bellingham Alive voted for Barron as the Best Clean Energy Gold Company in 2021, capping a steady rise after the company was named the Silver recipient for the category in 2020 and Bronze in 2019.
It's no surprise more people are voting for Barron because more people are trusting the company for their solar installations. Solar by Barron has personally designed and installed over 1,500 solar arrays for residential and commercial customers in Northwest Washington. This includes over 100 off-grid and grid-tied battery backup systems, over 100 ground-mounted solar systems, and more than a dozen large commercial arrays over 50kW in size.
"With over 20 years of combined solar design and installation experience in residential and commercial projects, our Solar by Barron team hasn't met a solar energy question we can't answer," said company COO Brad Barron.
Barron also provides clean energy options through ductless HVAC systems, heat pump water heaters, and electric fireplace offerings.
"We are proud to be Northwest Washington's premier ductless provider, having installed more ductless heat pump and air conditioning systems than any of our competitors," Brad Barron said.
Committed to Improving LivesÔ through its Air Solutions team and Certified Home Performance Experts, Barron provides a wide range of heating, cooling, solar, electrical, plumbing, and indoor air quality products and services, as well as a large selection of stoves and fireplaces in its Firelight by Barron showrooms.
Barron Heating AC Electrical & Plumbing has become one of Northwest Washington's largest and most respected home performance experts with showroom locations in Burlington and Ferndale and an office location in Marysville. Approximately 160 employees serve customers in Skagit, Whatcom, Island, San Juan, and Snohomish counties.
The Burlington showroom is at 560 S. Burlington Blvd., just north of Rio Vista Avenue. For more information, call (360) 424-4962 or visit www.barronheating.com.