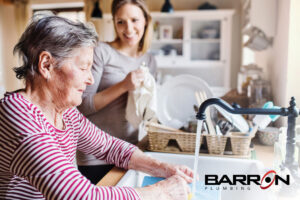 Homeowners may not often realize this, but plumbing companies experience 50% more calls during the holidays. Why is this? A large part of it is the heavy food prep that goes into the holidays, and the kitchen plumbing catastrophes that happen as a result.
This isn't the only place drains get clogged, though… there are also your bathrooms to consider, which get a lot more traffic when you have holiday guests! Then you have to think about whether those guests are staying overnight—this means they'll be using your hot water to take showers and helping themselves to your drinking water and perhaps even your washing machine for their laundry.
This is all great, but what about your plumbing system—is it getting overworked? Fortunately, you can prevent some common holiday mishaps with a WholeHome™ Plumbing Inspection beforehand. Read on to learn more!
What Does a WholeHome™ Plumbing Inspection Do?
When the team here at Barron Plumbing conducts a WholeHome™ Plumbing Inspection, they visually inspect every sink, toilet, water filtration system, everything down to your water heater. Looking for any potentially hazardous issues BEFORE your family's holiday goes down the drain.
Our WholeHome™ Plumbing Inspection visits are thorough and include:
Dye testing of all toilets: The purpose of this test is to determine if your toilet has a leak. A large leak could waste hundreds of gallons of water each day and add several hundred dollars to your annual water and sewer bill. If you are on a septic system, the same leak could be even more expensive.
Inspection of flue venting: Flue venting can corrode and leak, allowing carbon monoxide to enter your home.
Check all exposed hot and cold-water supply lines: Supply lines can deteriorate and even rupture. Deteriorated lines can usually be detected and replaced before a serious leak and damage occurs.
Check all sink piping: Corroded and deteriorated traps can be detected and replaced before they cause problems.
Check all fixture drains: Fixture drains that are not "free-running" are likely to become completely plugged over time.
Check all washing machine hoses: Hoses deteriorate with age and can rupture, causing damage to your appliances and your home.
Check all outside faucets: Unrepaired leaks waste money and the absence of vacuum breakers can be hazardous.
Check (and tag) all emergency water shut-offs for proper operation: Ensure safety shut-offs work properly and shut completely. Nonworking emergency shut-offs are of no use during a crisis and can fail when used, causing bigger problems.
Check water pressure: Like checking blood pressure for your home; high water pressure can shorten the life expectancy of fixtures.
These thorough checks of all your plumbing appliances and components will ensure that the system is ready to handle whatever comes its way this holiday season. Don't forget, too, one great way to help avoid a holiday disaster with your kitchen plumbing is to watch what you're putting down that drain. Try to avoid FOG (fats, oils, and grease), hard food items such as meat bones or fruit pits, or excessive potato skins and eggshells which could jam up the garbage disposal and create a backup.
Barron Plumbing also recommends combining the WholeHome™ Plumbing Inspection and the Camera Inspection with Video. This is a non-invasive inspection INSIDE the pipes. We use a video camera inspection tool to peer deep inside your drain pipes and the rest of your plumbing to find problem areas. We might find clogs that are building up during this time, or pinhole leaks that have begun.
Please don't hesitate to reach out to our team for more great tips, and to schedule your next plumbing inspection!
Contact Barron Plumbing today to schedule your next plumbing inspection! When you're looking for a Plumber in Skagit or Whatcom County, look no further than Barron. Your full-service HVAC, Electrical & Plumbing Contractor. Our Mission Improving Lives.
Outside of Whatcom & Skagit County plumbing service and installation offerings vary by location. Call or visit our city pages for more details. We look forward to serving you! Contact Barron Plumbing today.