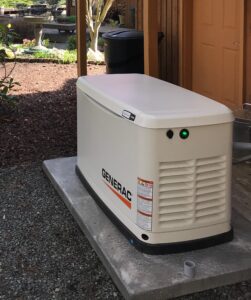 A common question Northwest Washington residents ask themselves is if something like a whole-house generator is necessary for the comfort and safety of their home. The short answer to that question is that if you would like the assurance that your home will continue to have HVAC service, lighting, refrigeration, and even water when the power goes out, then yes, a WholeHome™ generator installation from Barron Electrical is worth your consideration.
Our Generac and Honeywell WholeHome™ generators far surpass what a portable generator can do. While a portable system can handle one or two appliances at a time, a WholeHome™ system will keep your entire household in operation. Additionally, the WholeHome™ option is safer than a portable system that relies on propane or oil to operate.
Ask us too about the Silver Shield Electrical Preferred Membership with Barron. With this membership, you'll receive a WholeHome™ electrical safety inspection that includes checking on all the electrical components in your home to identify common problems such as degraded wiring, oversized fuses and breakers, and much more–all at a $295 value! This also includes comprehensive performance maintenance–an annual multi-point precision tune-up on your solar power inverter, battery system, or Barron-installed Generac or Honeywell generator!
Read on to learn more about the benefits of a WholeHome™ generator then give us a call when you're ready to schedule installation.
WholeHome™ Generator Benefits
As we mentioned briefly above, portable generators require a small tank of propane, oil, or gasoline in order to operate. This means you'll always need a tank of fuel on hand if you expect to be able to use the system during a power outage, plus you'll need to buy more if the outage lasts longer than the tank of fuel.
The WholeHome™ generator, however, will be connected directly to your natural gas line or large propane tank. This means it will be ready whenever the power goes out, automatically activating and requiring no action on your part once an outage occurs. This makes these systems highly reliable and convenient too, as you never have to worry about going out and switching anything on in the middle of a storm or in the middle of the night if that's when a blackout occurs.
A generator is one of those systems that you hope you'll never need, but you absolutely will be glad to have when you do. Generac and Honeywell whole-house generators have better long-term costs and reliability, are safer to operate than their portable counterparts, and with routine maintenance can last for many years.
Please don't hesitate to reach out to our team if you have any questions about our generator services–we provide comprehensive electrical and solar services too! 

Our team of Home Performance Experts has served the I-5 corridor from Blaine to Marysville, Oak Harbor to Concrete, and the San Juan Islands since 1972 with a mission of Improving Lives™. We look forward to serving you too! Contact Barron Electrical today for WholeHome™ Generator Services.