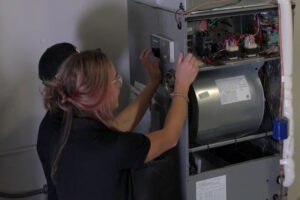 Whether you've just graduated high school or are a parent of a recent high school graduate, this blog post is for you! More than likely, you have a few important career-related priorities right now–finding a stable job, finding lucrative opportunities, and finding a job with high earning potential. The good news is, that a career in the trades offers all this and more! 
A Hidden Opportunity in the Trades
More and more homeowners in our area are electrifying their homes–that is, converting from the use of fossil fuels to electric power. Looking ahead, as their natural gas and propane heating or hot water system fails and needs an upgrade, the alternative will likely be an electric heat pump system. This switch to electric means that the need for skilled HVAC technicians in refrigeration will grow exponentially.
Like many industries, the HVAC industry is experiencing an increased labor demand. And with the addition of electrification in homes, there will be even more career opportunities created within our community. We expect that HVAC will go from a once-hidden trade to center stage–so the time to get in the trades is now!
Enter the Job Market Through Barron Technician School
At the Barron Technician School in Ferndale, our primary goal is to attract the best apprentice and journey-level job seekers to go through our on-the-job training..
What's in it for job seekers? Candidates accepted into the BTS program are provided with paid training through lab, classroom, and on-the-job training, never paying for tuition and receiving reimbursement for continuing education units and fees for trade-specific licensure.
All of our classes are led by industry experts in fully functional service and installation labs. At Barron Technician School, students will:
Get Paid to Learn
Receive All Tools, Textbooks, and Materials Needed
Earn Nationally Recognized Certifications (EPA & NATE)
Receive Combined Classroom Experience and On-the-Job Training
Receive Soft Skills Training (Customer Service & Consultation)
Build Lasting Relationships with Fellow Barron Team Members
Are you or someone you know looking for a fulfilling AND rewarding career? As a technician, you'll learn to properly diagnose, repair, and maintain electric, gas, and refrigeration HVAC systems from an experienced instructor with decades of experience in the trade. Apply today! Our HVAC Service Program is currently accepting applications now through July 15th.

Our team of Home Performance Experts has served the I-5 corridor from Blaine to Marysville, Oak Harbor to Concrete, and the San Juan Islands since 1972 with a mission of Improving Lives™. Contact Barron today to learn more about the Barron Technician School.