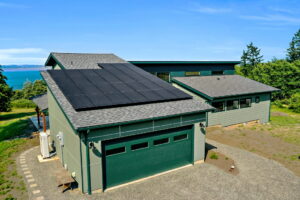 There are a number of reasons that homeowners in our area choose to have solar panels installed. In the age of "going green," oftentimes it's about reducing their carbon footprint and lowering their monthly utility bills. Additionally, with the local rebates available, going solar is a great investment.
Did you also know that going solar can increase your home value?
It's true! This is one of those investments that do more than simply create curb appeal like a swimming pool or fancy landscaping might—it actually increases the value of your home, since when the new owners buy your home, they'll benefit from savings too.
How Does This Work?
According to the National Renewable Energy Laboratory (NREL), every dollar saved on energy through solar can increase your home's value by $20! Plus, according to real estate site Zillow, dwellings with solar panels sell for about 4% higher than their counterparts without solar energy. How so?
Solar Panels Meet Demand
Did you know that 80% of homebuyers look for energy efficiency upgrades when they house-hunt? This is according to a report by CNBC. Energy efficiency upgrades such as solar installation meets two important needs that new homebuyers have:
1. The need to save money where they can.
2. The need to control and manage energy costs.
In addition to being budget-conscious, younger homebuyers care about the environment, which makes solar panels even more appealing.
Solar Panels Tap into Local Trends
Skeptical of solar in Washington State? We aren't exactly known as the "Sunshine State" so this makes sense. But what you may not realize about solar energy is that the energy can be stored for later use. Therefore, the long summer days we experience make up for any dreary, overcast days we have thereafter.
For this reason, going solar has become more and more popular throughout the state, particularly with solar incentives such as state rebates and the federal tax credit.
Solar Panels Save Time and Money
Homes with solar panels, according to the NREL, stay on the market for less time than homes without—about 20% less time, actually. This means you can save the time and money it would take you to find a place to store your belongings and find a temporary rental when moving. You also won't have to pay two mortgages at the same time.
Solar Energy Makes Homes More Efficient
There are a number of ways you can ensure that your HVAC systems and other electrical appliances work more efficiently, such as:
· Ensuring your insulation is upgraded and in good shape.
· You have energy-efficient LED lighting in place.
· Your appliances are ENERGY STAR-certified.
Going solar adds to these benefits by making the use of these energy-efficient systems even less costly, and increases the value of your home overall!
Our team of Home Performance Experts has served Whatcom, Skagit, Island, Snohomish & San Juan Counties since 1972 with a mission of Improving Lives™. We look forward to serving you! Contact Solar by Barron today for solar panel installation.