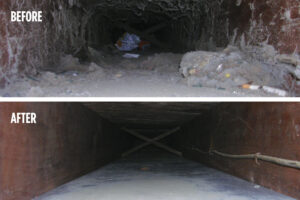 With fall right around the corner, the weather will soon turn cooler, and rainier. Is your property ready for this change of seasons?
Without proper weatherization, you won't be ready at all, so now is the time to contact Barron to schedule these services! You should also know, that we are currently offering up to $1,000 off attic and crawlspace restoration. Contact us for more details! In the meantime, read on to learn more about how professional attic and crawlspace restoration will benefit you. 
Professional Weather Restoration Services
Our weather restoration services include air sealing, rodent and pest control, insulation services, and crawlspace and attic restoration. Restoration helps maintain and even improve the structural integrity of your residence, and keeps humidity levels low in places that are susceptible to mold growth, rodent infestation, and other problems–places like your attic and your crawlspace!
Too much humidity can lead to wood rot and the growth of other unhealthy bacteria in addition to mold and mildew, and this can all make its way into your living space too, through your ductwork and other mechanical components that lead into the space.
Crawlspace restoration allows us to equip you with the right ground cover while attic restoration allows us to properly insulate your home and block heat transfer that can lead to condensation or rodent infiltration.
Prepping Your Home for Fall
Weather restoration services are a small part of a bigger project you should be working on right now–prepping your whole home for fall! We can help, by enrolling you in the Barron Silver Shield Membership.
We have a comprehensive plan for every system in your home–your HVAC systems, electrical system, and plumbing. This membership grants you a WholeHome™ Inspection depending on which plan offering(s) you enroll in, in addition to no overtime rates, discounts on diagnosis, parts and labor, a one-year workmanship guarantee, and an equipment upgrade discount. 
This doesn't even scratch the surface on how useful it is to have routine inspections, maintenance, and tune-ups done; maintenance helps every system in your home work as efficiently and effectively as possible, for as long as possible!
Our team of Home Performance Experts has served the I-5 corridor from Blaine to Marysville, Oak Harbor to Concrete, and the San Juan Islands since 1972 with a mission of Improving Lives™. We look forward to serving you too! Contact Air Solutions by Barron today for professional home weatherization services.