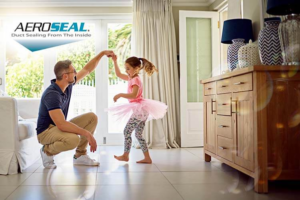 If there is any part of an HVAC system that people don't give a lot of thought or attention to, it's ductwork. Air ducts are typically installed in hard-to-access areas such as attics, crawlspaces, and beyond drywall. We wouldn't expect you to think about this component often, but that doesn't change how important it is.
Your ductwork is what allows the cooled air from your air conditioner and warm air from your furnace or heat pump to get distributed into the various rooms of your home. Dirty or damaged ductwork can lead to a number of problems for your household, which we'll get into below.
If you suspect you may have a problem with your ductwork, or want to learn about our ductwork services, please don't hesitate to contact our Home Performance Experts!
Also, check out our Silver Shield Membership! Our HVAC plan includes a WholeHome™ Performance Assessment includes a full air duct inspection and members can save up to $200 on duct cleaning or Aeroseal duct sealing. Read on to learn more about these services and their benefits. 
The Benefits of Duct Cleaning
Homeowners aren't often aware of this, but professional duct cleaning actually has many benefits, to the health of the people in your household as well as to your HVAC system. 
Over the course of your HVAC systems' lifespans, your ductwork can actually accumulate several pounds of dust and other debris, such as pet hair and dander, allergens, and other contaminants. The frequency of how often you should have duct cleaning done depends on the level of debris that is produced in your home, but our Home Performance Experts can help you determine your home's specific needs and cleaning schedule.
Barron is a NADCA (National Air Duct Cleaners Association) member, which means our Home Performance Experts have met rigorous standards and signed a Code of Ethics stating they'll do everything possible to protect their consumers. You want a team like this to tend to your ductwork to make sure the cleaning is done effectively and thoroughly.
The Benefits of Aeroseal Duct Sealing
Before you ask, no, you cannot simply seal up your ducts with store-bought duct tape. This material isn't aptly named and will grow brittle in just a few months due to the fluctuating temperatures in your ducts.
But if your ducts aren't in great shape, you can lose up to 30% of the conditioned air you're otherwise paying for through ductwork damage.
The Aeroseal Solution
Aeroseal is an EPA and Department of Energy-funded technology that allows you to:
Increase indoor comfort.
Improve overall indoor air quality.
And increase your energy efficiency.
It does this by keeping conditioned air from escaping out of your ductwork, and dirty air from getting into your ductwork. Aeroseal itself is a non-toxic solution that seals up tears and leaks inside your ductwork in four to eight hours. It's important that you work with a qualified and Aeroseal guaranteed contractor to have this done!
Our team of Home Performance Experts has served the I-5 corridor from Blaine to Marysville, Oak Harbor to Concrete, and the San Juan Islands since 1972 with a mission of Improving Lives™. We look forward to serving you too! Contact Air Solutions by Barron today for air quality services.