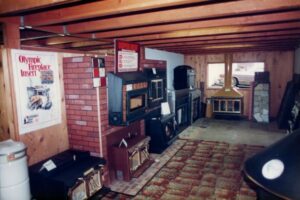 Since the Middle Ages, beautiful and even more importantly, functional, fireplaces have made it possible to bring warmth and a means for cooking inside the home. Since that time, fireplaces have become a beloved home feature for residences throughout Northwest Washington, where our temperatures stay cool for the most part throughout the year.
Modern innovations have improved fireplace efficiency, safety, and more in recent years, with modern fireplace improvements being added. We'll dive into that more below. In the meantime, when you're ready for a fireplace installation, insert, or stove reach out to the team at Firelight by Barron!
How Fireplaces Evolved
While there were flaws with the first fireplaces, the industrial revolution introduced large-scale housing developments, and with that fireplaces became a more regular sight. In the 1800's, the Adam Brothers became notable for their fireplace design, and ended up designed a fireplace that didn't take up as much space, and used better materials.
Central heat was introduced in the 1900's, and fireplaces became less common as a source of heat, however the ambience they created was nothing to dismiss. In fact, not only did the functionality of fireplaces remain appealing, but so too did the architectural and design elements.
The first factory-built fireplace system was introduced by Heatilator in the mid-1900's, and this eliminated the need for onsite masonry fireplace construction. Today, you can find attractive, functional, and safe fireplaces in our showrooms. 
Modern Advancements to Fireplace Systems
Inserts and heat exchangers have both helped to make home fireplaces far more efficient than those of the past.
What Is a Fireplace Insert?
Invented by Joab R. Donaldson in 1896, this fireplace is specially designed to install within a wood-burning fireplace. They typically work best for masonry fireplaces, but can often be made to fit inside prefabricated fireplaces instead. The best way to ensure you have a successful fireplace insert installation is by contacting a trained and experienced professional, such as a member of our team—this will help ensure both performance and safety.
Safety Advancements in Today's Fireplaces
Today's gas fireplaces are safer than ever! They've had features added to them to make them so, such as the inclusion of an oxypilot. This is a sensing devices that causes the gas fire to switch off if the level of oxygen in the room falls below a certain level. This prevents potentially harmful carbon monoxide exposure in your home.
Please don't hesitate to reach out to Firelight by Barron with any questions you may have about fireplaces!
Our team of Home Performance Experts has served Whatcom, Skagit, Island, Snohomish & San Juan Counties since 1972 with a mission of Improving Lives™. We look forward to serving you! Contact Firelight by Barron today for fireplace services.