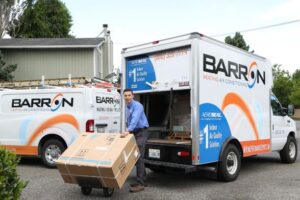 For many homeowners in the market for a new cooling system, a heat pump is the perfect option. These systems are highly versatile, providing around-the-clock comfort, greater opportunity for indoor air quality, and substantial savings in your energy bill. The question is, is a heat pump the right choice for your home's cooling needs?
Below, we've covered many of the common benefits of these systems, and we hope that if you have any questions about making a switch from a more traditional system, you'll reach out to our Home Performance Experts! Heat pumps are fantastic investments that provide homeowners with lower monthly utility payments, and more. Read on!
What Makes a Heat Pump Different?
Heat pump systems work much like a traditional central air conditioner, by using refrigerant to transfer heat through a set of coils and a compressor in order to provide cooling to your home. The major difference between a heat pump and conventional air conditioner is a component called the reversing valve. This mechanism switches the flow of refrigerant, so that a heat pump can be used as both an air conditioner and a heating system.
What also makes heat pumps different is that you can choose either a central (unitary) or a "ductless" model. Ductless systems are comprised of a single outdoor unit, connected to as few as one or up to as many as four or five indoor units through a conduit with the power cord, refrigerant line, and condensate line.
These conduits are installed through small holes drilled through the drywall behind each air handler. The air handlers are typically mounted high up on walls ("high wall units") and can be independently controlled for personalized cooling—and heating—throughout the home! That said, there are also alternative air handler options like cassettes, "low-boys" (think the look of unit under the window at the last motel you stayed at) or concealed (aka "ducted ductless") units that allow you to use inverter ductless technology with zonal distribution through ducts and registers.
Whether you go with a ducted or ductless model, you can count on these heat pump advantages:
Improved Energy Efficiency: This is the biggest reason many homeowners choose a heat pump installation over a more traditional central electric furnace. Since these systems do not generate heat—they transfer it—it makes them far more efficient heaters than a central electric furnace would, and they're more efficient as cooling systems too.
Use Electricity instead of Fossil Fuels:  While electricity can come from many different power generation sources, moving from a natural gas or LP furnace to an electric heat pump gives people the opportunity to change their footprint. Combine this with Solar (Barron can help!) and now you can have one of the greenest space heating and cooling options on the planet!
More Versatility: As we mentioned above, a heat pump has the ability to both cool and heat the home, which is what makes this system so unique. With the simple change of a thermostat setting, you can go from heating to cooling mode and vice versa with ease. Remember, just like with any other HVAC system, it's important to its functionality, efficiency, and longevity that you have it installed and serviced by trained and experienced professionals. We're here to help, please don't hesitate to reach out.
Our team of Home Performance Experts has served Whatcom, Skagit, Island, Snohomish & San Juan Counties since 1972 with a mission of Improving Lives™. We look forward to serving you! Contact Barron Heating & Air Conditioning today for professional heat pump services.