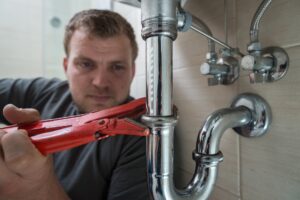 You don't think about your plumbing often. Pipes, sewers, and washing machine hoses are out of sight and out of mind for most homeowners. It's hard to spot problems that cost you money, which is why you have us.
A WholeHome™ Plumbing Inspection helps your home in more ways than one. This is what our thorough inspections by experienced professionals include:
Using dye testing on all toilets
Flue vent inspection
Checking on all sink pipes
Inspecting washing machine hoses
Checking out all exposed supply lines
And more
When there aren't any visible plumbing problems in your home, it's easy to think that you don't need a plumbing inspection. Let's talk about why that might not be the case and what a WholeHome™ Plumbing Inspection can do for you.
Detecting Expensive Leaks
Water leaks aren't just an aggravation–they're expensive. Simple pipe leaks can result in thousands of gallons of extra water usage throughout the year. Beyond that, water damage can impact the foundation of your home and cause wood rot.
Any water leak in your home can lead to expensive, extensive repairs. Detection helps you prevent these problems from getting worse–knowing is half the battle, and once we identify these problems, repair is imminent.
Prevent Appliance Damage
The hoses that feed water to your washing machine degrade over time. Eventually, they can leak water and slowly damage your appliances over time. You won't notice until the damage is done, but with an inspection, you can find out early and put a stop to it all.
Preserves Your Plumbing System's Efficiency
Minimize inefficiencies and maximize savings–that's what we want for you. Our experienced plumbers understand how to optimize your plumbing system and restore its prior efficiency so you don't have to worry about wasting money every time you turn your faucet on or run the dishwasher.
Don't Skip Out on Your WholeHome™ Plumbing Inspection
With our WholeHome™ Plumbing Inspection, you'll know about faucet leaks, hose issues, ensure your emergency shut-off works as planned, and so much more. With Barron, you don't have to worry about your home plumbing–you're in good hands.
Our team of Home Performance Experts has served the I-5 corridor from Blaine to Marysville, Oak Harbor to Concrete, and the San Juan Islands since 1972 with a mission of Improving Lives™. We look forward to serving you too! Contact Barron Plumbing today for service.