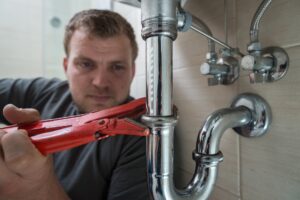 You don't think about your plumbing often. Pipes, sewers, and washing machine hoses are out of sight and out of mind for most homeowners. It's hard to spot problems that cost you money, which is why you have us.
A WholeHome™ Plumbing Inspection helps your home in more ways than one. This is what our thorough inspections by experienced professionals include:
Using dye testing on all toilets
Flue vent inspection
Checking on all sink pipes
Inspecting washing machine hoses
Checking out all exposed supply lines
And more
When there aren't any visible plumbing problems in your home, it's easy to think that you don't need a plumbing inspection. Let's talk about why that might not be the case and what a WholeHome™ Plumbing Inspection can do for you.