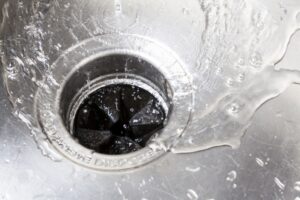 If there is any problem that is pretty common among homeowners, it's the problem of a clogged or dirty drain. Whether your drains are sluggish, completely backed up, or have a lingering odor to them, it's not something you can ignore.
Of course, you might think the answer to addressing these troublesome drains is that bottle of store-bought liquid drain cleaner you keep on hand from the store. Unfortunately, however, this might only exacerbate the problem. Ironic as it is, the materials used in these "drain openers" only dissolve some types of clogs, and can actually create blockages of their own.
Additionally, the chemicals used in these "solutions" are caustic and can actually start corroding your drain pipes. Lastly, if you have multiple drains clogged, this is actually pointing to a problem much deeper–with your sewer line–and store-bought drain cleaners aren't going to do much, if anything, for this kind of problem. Read on to learn when you should call on the pros for your drain and sewer issues.
Solving Your Drain and Sewer Cleaning Needs
In some cases, resolving a drain clog can be as easy as taking a plunger to the offending drain and using a little bit of "elbow grease" to fix it. Or resolving a smelly drain might just mean pouring some vinegar and baking soda down it and rinsing it with hot water.
In other cases, however, it's a little more complicated than this. FOG (Fats, Oils, and Grease) can really do a number on a kitchen sink, while hair can totally stop up your bathroom sink and shower drains. So, what's the solution, if not chemical drain cleaners?
Contact Barron Plumbing to utilize specialized drain cleaning methods like using a drain auger powerful hydro-jet. Not only will hydro-jetting effectively clean out your drain pipes, but it can also keep blockages from occurring again.
Keeping Your Sewer System in Good Shape Too
All the drains in your home lead to the sewer system. If a drain clog gets too deep, it can cause a blockage that will affect the entire household. How you can detect if your sewer line needs cleaning or clearing is by being aware of things like very smelly drains, or wet spots in your yard with no weather or sprinkler-related reason.
In severe cases, clogs can lead to leaks, especially in the case of tree root infiltration. In this scenario, you might see spots of lush landscaping throughout the yard that come from fertilized water leaking out the sewer line.
From improving your home hygiene to maintaining your plumbing system's functionality, you should always trust the pros if you notice any problems with your drains or your sewer system.
Prevent Problems from the Start with our Silver Shield Membership!
Our Silver Shield membership ensures that your home is performing at its best, from your plumbing and HVAC to your electrical system use. The plumbing plan includes a WholeHome™ plumbing inspection called our "Drain & Flush" service that includes a 10-point inspection to ensure that your entire plumbing system is in perfect working order.
There are a number of other benefits included with all Silver Shield plans, which we'll be happy to discuss with you when you give us a call!
Our team of Home Performance Experts has served the I-5 corridor from Blaine to Marysville, Oak Harbor to Concrete, and the San Juan Islands since 1972 with a mission of Improving Lives™. We look forward to serving you too! Contact Barron Plumbing today for professional drain and sewer cleaning.