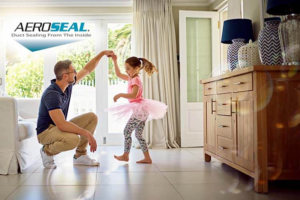 Should you invest in Aeroseal duct sealing services? If your household suffers from uneven heating or cooling throughout the living space, inadequate indoor air quality, or high utility bills without cause, then you could benefit from this service.
Perhaps you've noticed a buildup of dust in your home or musty odors in the home. This can be due to damaged, leaky ductwork. Your ductwork can actually lose up to 30% of the conditioned air that you're paying for anyway. Plus, it allows contaminants and allergens in, threatening your indoor air quality.
The Aeroseal Answer
Aeroseal, an EPA and Department of Energy-funded technology, was developed by researchers at UC Berkeley and is designed to:
Increase Home Comfort
Improve Indoor Air Quality
Increase Your Energy Savings
How does it do all this?
Aeroseal duct sealing keeps air from escaping out of your ductwork. It uses tiny beads of a non-toxic solution that seals up leaks and tears in four to eight hours. This process saves homeowners, on average, $600 to $850 per year because it prevents the escape of conditioned air, allowing you to use your HVAC systems more efficiently.
Air leaks are hard to find, particularly for the average homeowner. Your ducts are often installed in relatively inaccessible areas, like the attic, crawlspace, or even behind drywall. You need trained and experienced professionals to access them and ensure they're in good shape, and not contributing to home comfort issues.
Fortunately, you can turn to Air Solutions by Barron, the exclusive Aeroseal Duct Sealing provider in Northwest Washington!
Don't Forget to Have Your Ducts Cleaned
As mentioned, not only do leaky ducts let air out, they also let contaminants in. This includes dust and dirt, allergens like pollen and pet dander, and VOCs (volatile organic compounds). These particles make their way into your indoor air and can have a big impact on your comfort as well as health. This is especially important to remember if you have household members who suffer from allergies or asthma.
Dirty ducts are bad news for your HVAC system and your utility bills, too. When ductwork is too clogged up with debris, airflow is restricted and as a result, the overall performance of your HVAC systems are affected. Fortunately, you don't need to look any further than our highly trained Home Performance Experts for professional NADCA-certified duct cleaning.
A professional air duct cleaning matters! Watch as Owner John Barron explains why it's never been more important to clean and seal your ductwork.  
Our team of Home Performance Experts has served Whatcom, Skagit, Island, Snohomish & San Juan Counties since 1972 with a mission of Improving Lives™. We look forward to serving you! Contact Air Solutions by Barron for professional Aeroseal services.