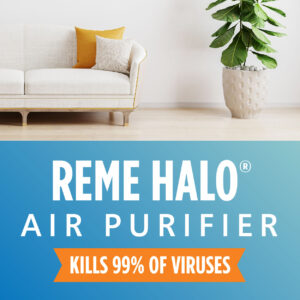 Good indoor air quality (IAQ) is essential to both the comfort and health of our indoor spaces. Quality air is especially important these days, and with the amount of time we spend indoors, how healthy that air we breathe is and how well it prevents virus transmission are worthy concerns.
On average, Americans spend over 70% of their time indoors—you deserve the peace of mind that the air you breathe during that time is comfortable and healthy! You can make a huge difference in the health of your home by equipping your household with the right IAQ products and services. A great solution is a whole-home air purification system like the REME HALO® or HALO-LED™ in-duct air purifier.
Why You Should Consider Whole-Home Air Purification
For years, homeowners have sought ways to breathe better quality air in their homes. From concerns with asthma and allergies to odors and germs, the benefits of a whole-home air purifier installation are endless. A whole-home air purifier can resolve issues such as:
Mold and Mildew Growth
Dirty Ductwork
Smelly or Stuffy Air
Allergens and Other Particles in the Air
Allergy Symptom Flare-Ups in the Home
Virus Transmission
The REME HALO®
The REME HALO® is a powerhouse for indoor air quality. As the #1 in-duct air purifier system on the market today, it eliminates 99% of germs, bacteria, and viruses—including COVID-19—on surfaces and in the air. It's also known to reduce allergy symptoms from smoke, VOCs (volatile organic compounds), and odors. With patented technology that's been third-party tested, validated, and proven, the REME HALO® is a game-changer in the indoor air quality arena, approved for widespread usage for both residential and commercial purposes.
The HALO-LED™
The HALO-LED™ in-duct air purifier has the same great advantages of the REME HALO® in addition to being:
Mercury and ozone free.
Long-lasting with a replaceable LED cell module. This module has a 2.5x longer life than current mercury vapor UV lamp technologies.
Self-cleaning with automatic ionizers that include carbon fiber brushers to reduce particulates.
Whether you're looking to combat allergens, mold, or viruses like COVID-19, REME whole-home air purifiers are the perfect match to drastically improve the indoor air quality in your home. Worry no more about the health of your indoor spaces—give Air Solutions by Barron a call to see if a whole-home air purifier will benefit your specific needs. Our Home Performance Experts will help you make an educated decision about air filtration and purifier solutions and what's best for your unique situation.
Our team of Home Performance Experts has served Whatcom, Skagit, Island, Snohomish & San Juan Counties since 1972 with a mission of Improving Lives™. We look forward to serving you! Contact Air Solutions by Barron today for air filtration and air purifier services in Bellingham, WA and beyond.