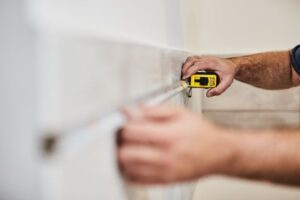 Before you visit our fireplace showroom to choose your next fireplace or insert, it's a good idea to be prepared. Firelight by Barron is always here to help, and that's why we've listed some pertinent information below on how to measure your fireplace and what else you need to know about fireplace measurements before making a purchase.
Once you've read through this post, go ahead and fill out our fireplace measurements form which will be submitted to our Firelight by Barron experts. There is an option to upload images of your current fireplace on the form!
"What Am I Measuring?"
When you measure your fireplace, you're measuring for gas and wood inserts, which are designed to slide into masonry fireplaces and zero clearance wood fireplaces. They're closed-combustion fireboxes usually made of steel or cast iron, and fronted, or faced, with insulated glass.
Masonry fireplaces are site-built fireplaces composed entirely of brick, stone, and the like while zero clearance wood fireplaces are prefabricated fireplaces most often using a metal pipe for the flue or chimney. One big notable difference between the two of these is that most prefab fireplaces aren't approved for use with vent free logs with the damper closed.
Taking Basic Measurements
Let's start with the basics. You'll use measuring tape to look at your height, width, depth, and clearance (more on this in a moment). The reason this is important is because it:
Gives your Hearth Design Expert the ability to quickly identify proper equipment, build an estimate in the showroom, and quickly place an order for you. Current wait times on Hearth equipment can be lengthy.
Having your measurements ahead of time helps avoid a pre-layout.
Your price for install will be established at the time of your visit for your convenience.
How do you take these measurements?
Height: Use the measuring tape to record the height of your firebox from the opening, the rear, and the lintel, in the case of a brick fireplace—this is the iron rod that runs from the front to back down the ceiling of your fireplace opening. The purpose of the lintel is to provide structural support for your fireplace and is usually embedded in the brick but can sometimes be visible. If you're opening has a lintel that is protruding slightly, make adjustments for the lintel and add 1/8″ space to create sufficient room for clearance. If your fireplace has an arched opening, you'll want to ensure you note the dimensions at the highest and lowest points, and generally speaking you'll use the smallest of these measurements for your final report.
Width: You'll want to measure the width of your firebox from the face of your fireplace to the rear interior. You should cross-check this at different heights to ensure that your firebox is symmetrical—fireplaces with angled sidewalls will have different dimensions based on where you take the measurements.
Depth: The depth of your fireplace is the distance from the face of your firebox to the back wall. Record the dimension of your fireplace depth from the center of your firebox. The depth does not include the thickness of the brick or marble tile that faces the fireplace. This is important to know! You can mix and match flue sizes with chimney heights.
Clearance: Last but not least, if you have a mantle then you'll need to measure from the top of the firebox to the mantle, and if the mantle has legs, measure from the firebox to the leg. Lastly, measuring the depth of your hearth is also important, particularly when installing a wood insert.
Something important to remember is that sometimes, small architectural blemishes can lead to tight fittings. Standard fireplace inserts will fit into existing fireboxes, but it's always a good idea to have a Hearth Design Expert check and make sure.
Good to Know
Wherever you get your information on fireplaces, we want you to feel confident in your purchase from Firelight by Barron. Here are some more "good to know" facts to help you make educated measurements and get the most from your fireplace installation.
You'll often hear the term firebox. This is also referred to as a fireplace opening or cavity—it's all the same! Sometimes, small architectural blemishes in or around your firebox can lead to tight fittings. Standard fireplace inserts will fit into existing fireboxes, but it's always a good idea to have a Hearth Design Expert check just in case.
The smoke chamber height and design is critical in measuring your fireplace. This typically isn't a space you can see well, since it's hidden above the fireplace damper. The height of the damper is important as well—the bottom of the damper should be a minimum of 8 inches above the top of the fireplace opening.
Our team of Home Performance Experts has served Whatcom, Skagit, Island, Snohomish & San Juan Counties since 1972 with a mission of Improving Lives™. We look forward to serving you! Contact Firelight by Barron today for your fireplace services!