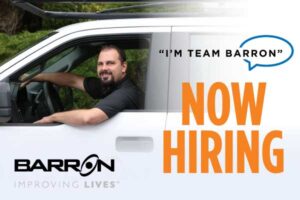 If you're looking for a particularly lucrative career path, then home services is worth exploring. Barron is currently hiring for:
The home services industry is thriving and ready for new recruits—contact us when you're looking for a full-time, stable career in a field that isn't going anywhere anytime soon. Everyone needs reliable HVAC, plumbing, and electrical services for their homes and businesses, and Barron is the company that reliably provides this throughout Whatcom, Skagit, Island, Snohomish & San Juan Counties, since 1972, with a mission of Improving Lives™. Apply today by selecting one of the links above!
The Barron Culture
The Barron culture includes collaboration and sharing of knowledge. Worried you don't have the experience? Learn more about the Barron Technician School—whether you are just now starting your home services career or looking to advance, we're on the lookout for honest, hardworking, and mechanically-inclined individuals.
Come learn from the best in the field at Barron's Ferndale campus. Our school is equipped with fully functioning service and installation labs for real-time, hands-on training, and our classes are taught by industry leaders. Qualified job candidates are paid for their classroom experience at Barron Technician School as well as their lab time and on-the-job training.
The Barron Advantage
You aren't just getting a job when you become a Barron employee. You also get these great benefits!
Industry-leading pay
Cost-of-living increases
Bonuses & incentives
Medical, dental & vision insurance
401k with employer match
Paid holidays & vacation
Paid training; Barron Technician School
Paid travel
Paid every Friday
Year-round work
A fully-stocked vehicle
Multi-trade advancement opportunities
Semi-annual reviews
Career stability; 5 decades in business
Collaborative culture
Open-door atmosphere
Barron swag
Company-sponsored events & trips
A Fulfilling and Rewarding Career Choice
A career with Barron is both fulfilling and rewarding. There's been significant growth in the demand for high-quality professionals in the HVAC, plumbing, and electrical services marketplace. Additionally, there is a fantastic earning potential and significant opportunities to advance in the industry, without the traditional 4-year degree that many other career paths require.
Our passion here at Barron is to encourage our team members both personally and professionally by helping them to achieve their goals. Our team members are aligned with our company mission of Improving Lives™.
At Barron, we're looking for candidates who live and breathe our people-first attitude, where customers are valued and coworkers are supported.
Apply today for a promising home services career with Barron Heating AC Electrical & Plumbing.