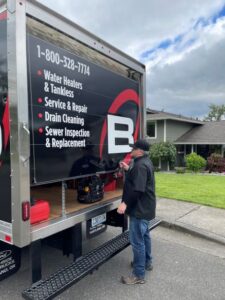 Plumbing emergencies are something that no homeowner wants to deal with, but are almost inevitable. Fortunately, we've dealt with many types of plumbing emergencies, and we know they never happen at a "convenient" time—which is why we provide emergency services!
Think of Barron 24/7
We understand the importance of responding quickly to your needs and we're always willing to go above and beyond your expectations so you have a successful outcome. Do you know what constitutes a plumbing emergency call, though? Below are several of the most common plumbing emergency calls we get.
Water Heater Leak
The only place you ever want to see water coming from when it comes to your water heater is theout of the faucet. If water is leaking from elsewhere on the water heater, this is something you'll want to have checked right away. The last thing you need is a leak growing bigger and leading to a flooded garage or worse, hall closet where you keep your water heater!
Blocked Sewer Line
The sewer line is the unsung hero of your home, hygienically diverting wastewater away from your property. When the sewer line gets backed up, whether due to tree roots or some other problem, then you can have a messy problem on your hands real fast. If you notice multiple drains are backing up in your home, it's time to give Barron Plumbing a call!
Burst Pipes
This is a more common wintertime problem than it is a summertime one. This is because burst pipes are caused by pipes freezing and then thawing. The process creates negative pressure, which causes the pipe to crack. Leaky pipes, however, are common any time of the year.
Slab Leak
Do you know how to detect a slab leak? If you feel hot or cold spots on the ground, hear water running where you shouldn't, or notice your water bills are a bit higher than they should be, then there's a chance you have a leak somewhere, and it may very well be beneath your slab. This is one of the most frustrating plumbing problems you can deal with, and well worth an emergency call.
When you're looking for an emergency plumber in Mount Vernon, WA or anywhere else in Skagit or Whatcom County, look no further than Barron. Your full-service HVAC, Electrical & Plumbing Contractor. Our Mission Improving Lives.
Plumbing service and installation offerings vary by location outside of Whatcom & Skagit County. Call or visit our city pages for more details. We look forward to serving you! Contact Barron Plumbing today.