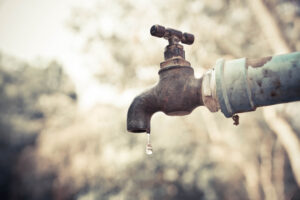 With springtime upon us, it's time to start using our outdoor plumbing to bring life back to our homes' landscaping and gardens. Without the right care, however, your pipes can put a damper on your spring plans.
While PNW winters may not bring as harsh as other parts of the country, they can certainly bring frozen pipes and subsequent plumbing headaches. Frozen pipes lead to burst pipes. And burst pipes can halt your springtime preparations for your home before they've begun.
Below are a few outdoor plumbing tasks to check off your "spring cleaning" checklist:
Inspect Your Hose Bibbs
Hose bibbs are the outdoor faucets where you connect your hose. If not properly cared for, they can cause issues for your home. Before winter arrives, hose bibbs should be properly insulated—winterized—to avoid problems. The water should either be shut off, or your home should be equipped with frost-free hose bibbs.
Did you forget to winterize? If proper steps weren't taken before a freeze, it's important that you have our Barron Plumbing team of professionals inspect your hose bibbs now, so you can avoid big problems like cracking, burst pipes, and leaks.
Inspect Your Sump Pump
Your sump pump works hard to keep water out of your home in case of flooding or heavy rains—which we're no stranger to! Inspect your sump pump to ensure it's doing it's job; look for cracks in the case or anything else that seems off. It's a good idea to do a visual inspection once a quarter, or after each heavy rainstorm, and contact our team for a professional sump pump inspection once a year.
Clean Your Gutters
Leaves and twigs can take up residence in your gutter over the winter, creating clogs that lead to water damage to your eaves and trim, as well as your home's foundation. Dirty gutters can also invite rodents and pests who can wreak havoc in your attic, destroying insulation and leaving droppings that can seriously affect your indoor air quality.
Watch for Low Water Pressure
This applies to not only your outdoor plumbing, but your indoor plumbing as well. If water pressure seems to have declined from a plumbing outlet or two, it can be the sign of a blockage, or it could be a sign of a crack in your plumbing system that's allowing water to leak out. Frozen pipes are a very real possibility in the Northwest, and when they thaw, the pressure inside them can lead to cracks or even burst pipes.
If the drop in water pressure seems widespread throughout your home, it can be an indication of a main line water problem like a leak or blockage. If you notice any of these issues, call Barron Plumbing right away!
From declining water pressure to sump pumps and hose bibbs, our Barron Plumbing Team of professionals is experienced in a wide range of plumbing issues. Contact us today to ensure your home is ready for the seasons ahead!
Our team of Home Performance Experts has served Whatcom, Skagit, Island, Snohomish & San Juan Counties since 1972 with a mission of Improving Lives™. We look forward to serving you! Contact Barron Plumbing today and get in touch with an expert plumber in Bellingham.