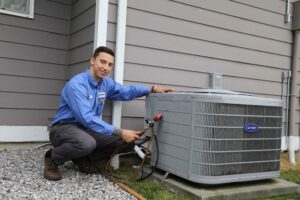 It's natural for homeowners these days to be concerned with their home comfort, health, and safety. While there are many ways to ensure this is the case, there is one in particular that is important this time of year—air conditioning maintenance.
Professional maintenance is one of those services that homeowners often see as optional. However, much like maintenance on your car with oil changes, brake checks, and tire rotations, your cooling system cannot perform as efficiently and effectively as possible without this very important service.
The Power of Professional Air Conditioning Maintenance
Also referred to as a tune-up, a maintenance session is when our Home Performance Experts come to your home and comprehensively clean and adjust the interior components of your air conditioner. This is a service we complete for central heating systems and heat pumps as well. In addition to cleaning and adjusting, we inspect the system and check for any components that might need repair or even replacement.
Comprehensive maintenance enables our team to ensure that your air conditioner maintains its performance, efficiency, and longevity. We'll alert you to any repair needs we spot so that you can get those serviced before they have a chance to grow into bigger problems.
The Best Time to Schedule Maintenance
We are often asked when the best time to schedule professional AC maintenance is. In general, we recommend this service during early spring, right before you need the system the most—so right about now!
That said, the frequency of when you have maintenance done is actually more important than the timing. We suggest this time of the year because it tends to be when our team is more readily available and less likely to be out on emergency service calls. Also, it gives you peace of mind that your system will be checked out and ready to go this summer.
So, how often should you schedule maintenance? Once a year! Your air conditioner should be serviced annually, and if you have a year-round heat pump system, maintenance should be done twice a year.
Improve Home Comfort and Safety
One of the main reasons we push consistent maintenance is to help improve your indoor comfort. As they age, air conditioners operate less and less efficiently, and without routine maintenance, components of the system will succumb much faster to natural wear and tear—again, much like your car if you skipped that all-important automobile maintenance.
Air conditioning maintenance also helps keep your household safe. While we aren't suggesting that air conditioners are inherently dangerous, they do have components that could be harmful if not dealt with correctly, such as electrical wiring and refrigerant. Be sure to only trust the pros!
Ask About Our Maintenance Membership!
Our Silver Shield Preferred Membership is our maintenance program that afford customers a number of benefits, such as comprehensive preventative maintenance, no overtime rates, priority service, special discounts, and much more. With annual maintenance from our team of Home Performance Experts, you can have peace of mind that your investment is in good hands.
Our team of Home Performance Experts has served Whatcom, Skagit, Island, Snohomish & San Juan Counties since 1972 with a mission of Improving Lives™. We look forward to serving you! Contact Barron Heating & Air Conditioning today for air conditioning services in Bellingham, WA and beyond.