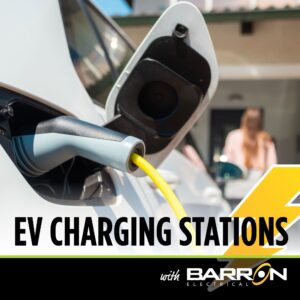 More and more homeowners are electrifying their households these days, but that's not the only way people are embracing electrical power. Electric vehicles have grown in popularity throughout the country recently, and our area is no different.
Of course, a vital part of owning an electric vehicle is having an easily accessible Electric Vehicle Charging Station also called an EV Charger. Sure, you can get a basic charging package with your vehicle that plugs into a standard wall outlet, but this is a slow and inefficient way to charge your vehicle.
You need only turn to Barron Electrical for a better option–a residential Electric Vehicle Charging Station.
What Is a Residential EV Charger?
These chargers provide a quicker way to charge your electric vehicle and are also safe as they provide a 240-volt 40 amp circuit specifically designed to charge your vehicle and ensure proper current to keep your car's battery from overheating.
When installed properly by a certified electrician you can be confident that both your house and vehicle will be taken care of and kept to code.
Barron Installs EV Chargers!
With a Barron installed EV charger, you can expect to get 250 or more miles per charge, depending on the type of electric vehicle you have. This gives you a lot of flexibility in using your electric vehicle–it can be ready to go after only a short charge–the most powerful EV chargers can fully power your vehicle in 10 to 30 minutes!
If you're interested in having an electric vehicle charging station installed on your property, then reach out to our team to get started. We'll assess your home's electrical panel to see if it needs to be upgraded to handle the capacity of the charging station, and from there we will help you find the ideal location for the charger. Please don't hesitate to reach out to our team with any questions.

Our team of Home Performance Experts has served the I-5 corridor from Blaine to Marysville, Oak Harbor to Concrete, and the San Juan Islands since 1972 with a mission of Improving Lives™. We look forward to serving you too! Contact Barron today for professional EV charger installation and more electrical services.