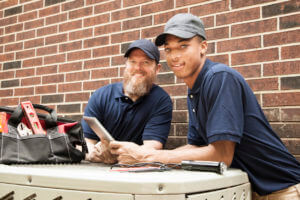 No homeowner should ever have to let a broken air conditioner or heating system keep them from remaining comfortable in their homes throughout the year. If you don't schedule HVAC performance maintenance on a regular basis, however, that's exactly what may happen.
Maintenance allows our Home Performance Experts to comprehensively inspect, clean, and adjust the HVAC components that need it. This service helps your air conditioning (and heating) system perform as efficiently and effectively as possible, for as long as possible.
Combine this with our Silver Shield Membership and not only will you receive top-quality performance maintenance, but members also receive a host of additional benefits, including priority service, discounts on parts and labor, a one-year workmanship guarantee, and more. Read on to learn more!
The Benefits of HVAC Performance Maintenance
Maintenance helps reduce repair needs, improve equipment longevity, and improve efficiency. A trained and experienced HVAC Professional should conduct this service at least once a year. This will afford you:
Fewer Repair Needs
Routine professional maintenance can help you avoid up to 85% of the repairs an HVAC system may ever need. This is achieved because, during maintenance, we check for signs of natural wear and tear. If we spot a component that needs replacing, we alert you to it right away. This gives you the opportunity to have it addressed before the problem grows into a much bigger, more expensive repair need.
Improved Efficiency
When components operate as they should and your system is thoroughly cleaned on an annual basis, it improves the system's efficiency. In fact, a well-maintained air conditioning or heating system can retain up to 95% of its original efficiency rating. For every year maintenance is skipped, it actually loses about 5%.
Longer Equipment Life
When you stay on top of maintenance, keep the system running well, and address wear and tear before it becomes a bigger problem, your HVAC system can have a useful service life of 10+ years. Without maintenance, this lifespan could be cut in half!
Keep the Manufacturer's Warranty In Place
Did you know you could potentially void the manufacturer's warranty that comes with your HVAC system by attempting to repair or service your HVAC system on your own? This means that later on if you have a problem–even if it's a manufacturer defect–you'll be financially liable for the repairs. 
Our team of Home Performance Experts has served the I-5 corridor from Blaine to Marysville, Oak Harbor to Concrete, and the San Juan Islands since 1972 with a mission of Improving Lives™. We look forward to serving you! Contact Barron today to learn more about our Silver Shield Membership and to schedule maintenance!