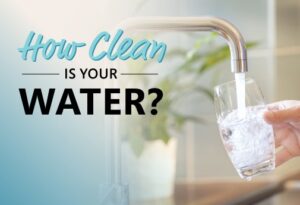 Do you know if there are impurities in your water? The water that comes into your home goes through a pretty extensive water treatment process beforehand. However, there's always a chance that some level of potentially harmful contaminants can make their way into your home's water supply.
The first step in determining whether or not you need a water filtration system of some kind is to have professional water testing done. Our water testing allows us to look for excessive chlorine, lead, bacteria, chemicals, or even minerals that cause hard water.
Right now, you can get up to $400 in savings with discounts on a sediment/carbon cartridge set, UV Anti-Bacteria system, and water conditioning & treatment system. This offer is good through 04/30/22, so don't wait to take advantage! Check out our promotions page for more details. In the meantime, read on as we uncover some subtle signs that it may be time for you to have water testing done to see if you need professional water filtration.
You See Limescale Buildup
Limescale isn't particularly harmful to you or your family. But it can definitely have an impact on your quality of life through what it does to your plumbing system. Limescale builds up as the result of hard water. This is water with a high level of minerals in it–namely iron, magnesium, and calcium.
These minerals create deposits that build up in your plumbing pipes–that limescale you're seeing around drain openings and faucets is also inside your pipes. Not only can this buildup restrict the flow of water and make your plumbing pipes less efficient, but in can eventually lead to pipe corrosion. As a result, you could have leaks that otherwise could have been avoided.
Hard water impacts all your plumbing appliances–it can even cause issues with dishware out of your dishwasher and faded clothes out of your washing machine. A professionally installed whole-house water softener will help remove the minerals causing hard water and limescale buildup.
Your Water Tastes Funny or Has a Strange Color
Even if you don't like the taste of natural tap water, you likely know what it's supposed to taste like. So if you discover a distinct tang of something that shouldn't be there–like a metallic taste–it's definitely a sign that something is amiss.
The same goes for if you see a tinge of color in your water. A brownish tint could mean that there is rust from your pipes coming into the water, which signals a whole plumbing problem on its own. But it could also signal other types of contamination that a reverse osmosis system may resolve.
The best thing you can do for your plumbing system and for the health of your household is to call Barron Plumbing as soon as you notice anything that might hint your water quality is suffering.
We provide professional water testing and treatment services. When you're looking for a plumber in Skagit or Whatcom County, look no further than Barron. Outside of Whatcom & Skagit County plumbing service and installation offerings vary by location. Call or visit our city pages for more details. We look forward to serving you! Contact Barron Plumbing today. Our Mission: Improving Lives.