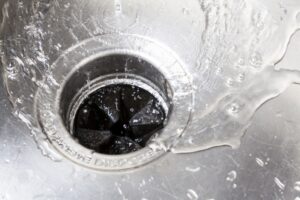 There's one household problem that may seem almost unavoidable for homeowners—clogged or dirty drains. Perhaps you've experienced sluggish drains, completely backed up drains, or even mysterious odors coming up from your pipes that you can't seem to make go away.
Your instinct is probably to reach for that bottle of store-bought drain cleaning solution, but that would be a mistake. These "solutions" are highly caustic and lead to more harm than good for your pipes, which means costly repair needs. The Barron Plumbing team takes a home performance approach—we'll find the root cause of your plumbing issues and leave your drains clean and unobstructed for good.
Read on to learn about the importance of professional drain cleaning and how we can prevent your drain pain.
When to Call the Pros for Drain Cleaning
In the most ideal situation, a drain clog would be easily resolvable with a plunger and a bit of "elbow grease." Perhaps a smelly drain could be resolved with some vinegar and baking soda mix. Unfortunately, life doesn't always work out so conveniently, and there will be times where the best thing you can do is call in a professional.
One of these times is when you have a stubborn drain clog. Perhaps it's hair that's built up in the shower drain, or FOG (fats, oils, and grease) that has accumulated in your kitchen sink. Professional drain cleaning will not only clear out these types of blockages, but actually clean your drainpipes, removing debris from the drainpipe walls and making it harder for clogs to reoccur.
Another time you should call for professional drain cleaning? Once a year! Drain cleaning is often seen as a repair service, but it actually serves as a preventative measure. By using specialized drain augers and hydro-jetting tools, our professionals bypass the caustic and potentially harmful effects of chemical store-bought drain cleaners in favor of natural methods that keep stubborn drain clogs from forming at all.
Don't Forget About Your Sewer System
All drains lead to one place—your sewer system. If a clog gets deep enough, it can create a blockage that will impact your whole household. But how can you tell if your sewer line needs cleaning or clearing? You may notice obscenely smelly drains or wet spots in your yard with no weather or sprinkler-related reason. You might even notice lush landscaping if a clog led to pipe damage and leaking into your yard.
For your home hygiene and functionality, you should always give the professionals a call as soon as you notice these signs, or anything else that indicates you may be experiencing a sewer line blockage or leak.
Contact Barron Plumbing and Save
For a limited time, we are offering 15% off your drain or sewer cleaning service, plus a free one-year Silver Shield Plumbing Membership! We want to wash away your drain pain for good.
For expert drain cleaning in Bellingham, WA and surrounding areas, contact Barron Plumbing.  Our Mission: Improving Lives™!