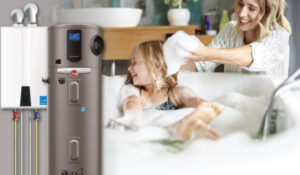 If there is any appliance in your home that gets taken for granted, it's likely your water heater. This system performs reliably for you every day, bringing you the hot water you need to clean and cook with. Of course, just like any other system, no water heater will last forever.
When it does come time for you to replace yours, our team is the one to turn to. But a water heater purchase shouldn't be a rushed decision. There are a number of factors to consider with your water heater replacement. Read on to learn more!
What Type of Water Heater Should You Buy?
You might have always had a traditional storage tank type water heater in your home. Today's models are very efficient and effective. Tank water heaters aren't your only option though.
In addition to the model of water heater you buy, there's also fuel source to consider. Will a gas-powered system be better for your household, or an electric one? These are questions that Barron Plumbing can help answer for you. We'll also help you choose between the different models:
Tankless Water Heaters: Also referred to as on-demand water heaters, these systems don't require a storage tank of hot water to operate. Instead their heat exchangers heat up to warm the water running through them once there is a demand from a tap or plumbing appliance. This means there is no standby heat loss, which makes these a great choice for efficiency-minded homeowners.
Heat Pump Water Heaters: Heat pump water heaters function similarly to heat pump HVAC systems in that they transfer heat instead of generating heat. This makes them highly efficient. In fact, they can use as little as one-third of the energy that a conventional water heater does, saving you thousands of dollars on your energy bills throughout the lifespan of the system.
Recirculating Systems: This type of system rapidly moves hot water from a water heater to your fixtures so you don't have to wait for the water to get hot, and make a great addition for many homes.
How Do You Make the Right Choice?
Choosing the right water heater for your specific home and needs can be overwhelming, but it doesn't have to be, when you work with our team. We'll help you look at a number of factors including:
Your Capacity Needs: Using a measurement called peak hour demand, we'll help you determine what size water heater you really need. Going too small will be as detrimental to efficiency as going to large.
Your Efficiency Needs: An efficient water heater is a less costly water heater.
Your Initial Budget: Opting for a more efficient water heater upfront will certainly save you money over the lifespan of the system, but there's also your initial budget to consider, and we can talk to you about that along with your options.
Our team of Home Performance Experts has served Whatcom, Skagit, Island, Snohomish & San Juan Counties since 1972 with a mission of Improving Lives™. We look forward to serving you! Contact Barron Plumbing today and get in touch with a professional plumber serving Bellingham, WA and beyond.