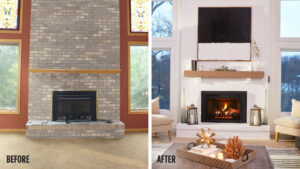 For many Bellingham area residents, the heart of the home is their fireplace. This is something that our founder, Dan Barron, took great pride in—personalizing the comfort of homeowners throughout the region through expert craftsmanship and beautifully crafted hearth products from America's leading brands of fireplaces, stoves, and inserts.
If you've been considering upgrading your aging and perhaps inefficiently wood-burning fireplace and converting to a gas burning fireplace, then you've found the right team. Firelight by Barron is focused on your safety and comfort, making your wellbeing our top priority, while delivering visually appealing and efficient products, such as gas-burning fireplaces and fireplace inserts.
Help Your Fireplace Go From Forgotten to Functional
When you have a fireplace in your home, you may as well get the most out of it, right? By converting from a wood-burning fireplace to a gas burner, you can benefit from:
A quick and convenient solution for zoned heating.
An improvement to room aesthetics in your home.
An improvement to heating efficiency.
Increased safety and cleanliness.
Gas fireplace inserts can be used for masonry or prefab fireplaces, and can be vented through your home's existing chimney, or a wall for a free-standing unit. Gas inserts do not require much maintenance beyond your annual checkup, valued between $75-125 depending on your home's needs. This is a great, affordable option for zoned heating as it allows you to turn up the gas in the room you're enjoying while lowering the thermostat for the rest of your home.
Let's not forget the green factor! Gas inserts burn with a 65-99% efficiency rating, resulting in very little pollution or smoke, and there is no ash or creosote produced with a gas-burning unit.
Find Your Ideal Gas Fireplace
Unsure of where to start with this process? Your first step is either to view our product catalog, or visit a Barron showroom to browse our working fireplace displays to get a real-life visual of what to expect.
A Firelight by Barron Hearth Expert will follow up with a free in-home layout, reviewing your project space and assessing your requirements. From there you can expect a seamless installation! And don't forget to ask about our annual maintenance plans to keep your fireplace in good condition throughout the years to come.
Our team of Home Performance Experts has served Whatcom, Skagit, Island, Snohomish & San Juan Counties since 1972 with a mission of Improving Lives™. We look forward to serving you. Contact Firelight by Barron today for fireplace inserts and more!