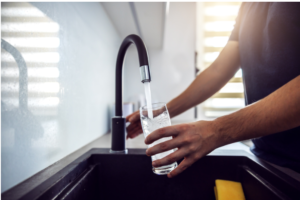 If you're unsure if your water is clean, Barron Plumbing is here to help. We provide professional water testing and water treatment services in our commitment to your comfort and health. These services ensure that you're drinking and using the healthiest, cleanest water possible.
Municipal water plants work hard to treat the water in your community. There are many miles to go between that plant and your taps, however. From hard water that needs conditioning to contaminated water that needs UV anti-bacteria technology, we have the solutions you need. Read on as we uncover the top water treatment options and how they can help improve your quality of life and your plumbing system.
The Power of Water Conditioning
Water conditioning is a method of changing the quality of your water. There are a variety of water conditioner systems on the market, including the increasingly popular water softener.
You may have heard of hard water before, but do you know what exactly it is? This is water with a high level of minerals in it—namely calcium, magnesium, and iron. Sounds pretty harmless, right? Although it's okay for us to ingest these minerals, their impact on your plumbing can be significant. We're looking at scale and soap scum buildup that leads to corrosion of your pipes, showers that leave your skin and hair feeling dry and brittle, and even clothing that fades and breaks down faster than it otherwise would, simply from using your washing machine.
A water softener resolves—or rather, prevents—all of this! This mechanical appliance is a whole-house system that can be integrated directly at point-of-entry into your home's water supply system and trades the harmful minerals for sodium, in a process called an ion exchange. As a result, you can avoid the problems presented by hard water altogether.
Water Treatment for Healthier Water
Whether it's your drinking water or the water you're using for bathing and washing, you need it to be healthy and clean. One valuable water treatment technique is UV anti-bacteria treatment. This treatment effectively uses UV technology to disinfect water containing viruses and bacteria that can make your household ill.
Another method is reverse osmosis, or RO. RO water treatment systems use pre-filters and semi-permeable membranes to remove a number of pollutants and chemicals, so that you're left with high-quality and healthy water.
Offering installation and services for water quality issues of all kinds, contact our Barron Plumbing team for all of your water treatment needs. And be sure to check out our promotions, which will include up to $350 in savings through deals on whole-house, point-of-entry water conditioning, and treatment systems!
Our team of Home Performance Experts has served Whatcom, Skagit, Island, Snohomish & San Juan Counties since 1972 with a mission of Improving Lives™. We look forward to serving you! Contact Barron Plumbing today for superior water testing and water treatment services.