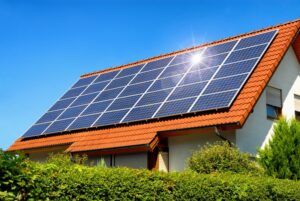 More and more homeowners are going solar these days, with a number of reasons to do so. Not only does solar electricity help you save energy (and subsequently money), but when you go solar with Solar by Barron, you get to cash in on even more great savings.
That's because right now, we're offering a solar-heat pump-water heater trifecta: When you choose our experts to install a residential or commercial solar system, we'll virtually eliminate your power bill—think free power, free heating, and free water heating! You can call us for a free estimate any time, but be sure to do it ASAP as this offer won't last. In the meantime, read on to see why going solar matters.
Investing in Clean Energy
When you go solar, you'll never run out of energy—think about it, the power of the sun is infinitely renewable. So unlike a fuel (like gasoline) it can't be depleted. Additionally, there are no moving parts or energy run off, like fumes, which will harm the environment.
There's also no heavy annual maintenance needs for solar panels and no fuel to restock, saving you money and reducing the carbon footprint of you and your family. Of course, that doesn't mean you should skip maintenance altogether, just that you can be less worried about the environmental side effects of such a service.
Make a Safe Investment!
While there are many risky investments out there that people can make. Getting solar panels installed on your roof or in your yard is a sure thing. Solar panels do have a significant upfront cost , but you'll see fantastic savings on your electrical energy bills each month that will eventually "eclipse" your original investment.
Throughout the years, you'll see considerable savings by using your solar energy system. In fact, you can expect to save hundreds of dollars each year. A well-cared for solar system can last for decades too, meaning you don't have to worry about premature replacement needs.
Taking Advantage of State and Local Incentives
As the cost of installation drops and technology improves, homeowners throughout Northwest Washington are discovering the many benefits of installing solar panels and relying on solar energy, including special state and local incentives.
For example, Puget Sound Energy supports and effort called net-metering, where excess electricity production is returned to the grid as a credit that can be used later by the generating customer. And this is just one instance of how you can save! Solar by Barron, recently voted one of the BEST Clean Energy Companies in the Northwest, can help you save in even more ways.
Contact us for superior solar services in Bellingham, WA and the surrounding communities, and be sure to check out our current offer for solar tax incentives.