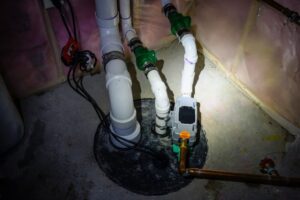 At Barron Plumbing, we understand that Bellingham area homeowners want to keep their homes safe and functioning at peak performance. This is why many of you have chosen to have a sump pump professionally installed in your basement. This plumbing system is a great way to ensure your property is kept safe in the event of a plumbing leak, burst pipe, or flood from storm waters.
Like other home comfort systems and equipment, sump pumps require routine care and maintenance inspections. At Barron Plumbing, we provide thorough sump pump inspections as well as comprehensive sump pump repairs and installation. We understand how important your safety and comfort is, which is why our home comfort experts are here to help.
Don't miss our sump pump inspection special! Through the end of the month we're offering a lower price on sump pump inspections. Read on to find out the common problems we may find and remedy during your sump pump inspection, and why this service is so beneficial.
Common Sump Pump Issues
Stuck float: Your sump pump may not be able to activate if the float is stuck.
Lack of power: While there are water-powered sump pumps, some run on electricity. This means if you lose power, or if the wires get corroded, your sump pump can be impacted and your home may be vulnerable.
No water in the sump pit: If your sump pump was not professionally or properly installed, this problem can occur.
Won't turn off: A sump pump might not turn off if there is a stuck float. Alternatively, you could be dealing with an overworked sump pump due to the check valve letting water from the discharge pipe get back down into the pit.
When was the last time you had your sump pump inspected? Call Barron Plumbing for a comprehensive inspection to determine what kind of shape your sump pump is in before it's too late.
The Benefits of Sump Pump Maintenance
A sump pump inspection is part of your overall sump pump maintenance, and it benefits your home by:
Improving sump pump reliability: Sump pumps are one of those systems that you hope you'll never need, but when you do, you'll be glad you have one! You should always be able to rely on yours.
Extended sump pump lifespan: Oftentimes, when small problems with home comfort systems are left unaddressed, they snowball into much bigger problems like premature system failure. This doesn't have to be the case!
Barron Plumbing offers a wide range of plumbing services to residents in Whatcom and Skagit County. We look forward to serving you! Contact Barron Plumbing today for sump pump services.