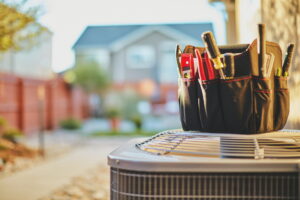 Spring is the perfect season for air conditioner maintenance. Your AC endured all of last summer, laid dormant in the winter, and it's in need of a tune-up before the hot weather hits.
Annual maintenance is important, but so is the timing. Your AC sees the most use during summer, so preparing it just before your air conditioner's busiest season simply makes the most sense. Add AC maintenance to your Marysville spring cleaning list for benefits like:
Longer air conditioning lifespan: Air conditioners last for 10 years on average before you may need to consider replacement. To not only hit the height of that lifespan, but potentially work past it, you need consistent annual maintenance.
Improved air quality: Your AC pulls dust and debris from the air through a filter. A poorly-maintained air conditioner doesn't do as good of a job, leaving more contaminants in the air for you to breathe in.
Optimized energy efficiency: The less efficient your air conditioner is, the longer it'll take to cool down your living space. The goal is to cool down your home as quickly as possible to reduce wear and tear over time.
Saving money every day: Without maintenance, the wear and tear on your air conditioner starts to weigh down on its efficiency, which equates to more power spend for the same results you're already used to. Maintenance saves you money on an ongoing basis.
Preventing summertime breakdowns: Your air conditioner going out in the middle of July is one of the worst feelings. Between the heat and humidity, it doesn't take long for your house to start feeling terrible.
Schedule spring AC maintenance now to avoid unnecessary strain on your air conditioner. Timely maintenance helps prevent breakdowns in the middle of summer when AC repair contractors receive more repair calls than any other time of the year.
Join Us at the Whatcom County Home & Garden Show
We'll be at the Whatcom County Home & Garden Show between April 28th and April 30th. Grab tickets now and join the weekend festivities including workshops, displays and live demonstrations, and activities to keep your children busy in the meantime.
If you purchase a Silver Shield membership from us at the home show, you'll get $100 off of air conditioner maintenance (must book an appointment at the show).
Our team of Home Performance Experts has served the I-5 corridor from Blaine to Marysville, Oak Harbor to Concrete, and the San Juan Islands since 1972 with a mission of Improving Lives™. We look forward to serving you too! Contact Barron Heating and Air Conditioning today for service.