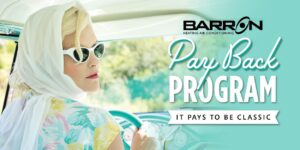 We're going on a furnace hunt and giving away free air conditioning to the owner of the oldest furnace Barron replaces, plus free AC to one randomly drawn winner who upgrades to a new, high-efficiency furnace during Barron's Pay Back Program—with up to $1,500 in savings!
Hanging onto your dinosaur equipment might finally be paying off. Call to take advantage of the savings today or send in a Free AC entry for your own classic unit. The Pay Back Program is on now through February 28, 2023!
Your Old Furnace is a Money Pit
The older your furnace is, the more it costs to run and hit the same in-home temperature that you're used to. Wear and tear takes its toll, and just because your furnace still kicks on doesn't mean it's doing as good of a job as it should. As much as 40% or more of its energy could be wasted, costing you money.
If your furnace is 9 years or older, it's time to start thinking seriously about replacing it with a high-efficiency model of today. This is your opportunity to save up to $1,500 on a new furnace upgrade and save money on every utility bill afterwards.
What About a Free Air Conditioner on Top of it?
During Barron's Pay Back Program, you could win free air conditioning! Two lucky customers will win air conditioning, including the customer with the oldest furnace. No purchase necessary. Contest runs 1/16/2023 – 2/28/2023. See Official Rules details.
Our team of Home Performance Experts has served the I-5 corridor from Blaine to Marysville, Oak Harbor to Concrete, and the San Juan Islands since 1972 with a mission of Improving Lives™. We look forward to serving you too! Contact Barron Heating & Air Conditioning today for furnace replacement.