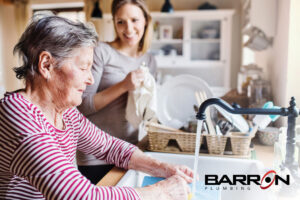 It's our hope that you made it through the holiday season without any huge plumbing mishaps. After all, it's the most popular time of the year to need a plumber, whether it's for clogged plumbing in the kitchen or in the bathroom of your home. Water heaters tend to get a lot of wear this time of the year too, as homeowners tend to have more guests using their showers and such.
Of course, the holiday season isn't the only time of the year you can have a plumbing problem, particularly a drain clog. In fact, this is one of the most common reasons homeowners call a plumber in our area–and you should call a plumber!
It's important that you not rely on store-bought drain cleaning chemicals when experiencing a clog, as these are very caustic and can actually do more harm than good for your plumbing system (more on this below). In the meantime, there are some things you can do to prevent drain clogs from forming, to begin with. Read on to learn more. 
Use a Drain Cover
The most common sources of drain clogs include hair, soap scum, and scaling from hard water minerals. In the kitchen sink it tends to be FOG (fats, oils, and grease), and anything that expands with water like pasta, rice, or coffee grounds.
Using a drain cover while you utilize these sinks, and then disposing of debris afterward, is key in protecting the drains and avoiding the need for unexpected drain cleaning.
Keep FOG Out of the Kitchen Sink
As we just mentioned above, FOG stands for fats, oils, and grease–byproducts of cooking. Homeowners often dump this down the kitchen sink drain without giving it much thought–after all, it's a liquid, so shouldn't it just go down the drain?
The problem is, that FOG hardens as it cools, which can build up on the interior walls of your pipes. It's better to put the FOG in a disposable receptacle and throw it away once it cools and hardens.
Running hot water down your sink drains after use will help if some FOG does end up making its way down your kitchen sink drain.
Don't Flush Anything but Toilet Paper
You'll find that many products, like baby wipes, are marketed as "flushable" these days. The problem is, this is a bit of false advertising. They're intended to dissolve, but this doesn't always occur. So, the debris that gets flushed down gets stuck and lodged in the pipe, creating a stubborn clog.
Schedule Professional Drain Cleaning!
Professional drain cleaning is not only recommended for drain clogs that have already formed but to prevent drain clogs from happening to begin with.
We have the tools and experience needed to ensure your drains and the rest of your plumbing system are as healthy as possible.
Contact Barron Plumbing when you're looking for a plumber in Skagit or Whatcom County. We are your full-service HVAC, electrical & plumbing contractor.
Our Mission: Improving Lives. Outside of Whatcom & Skagit County plumbing service and installation, offerings vary by location. Call or visit our city pages for more details. We look forward to serving you! Contact Barron Plumbing today.