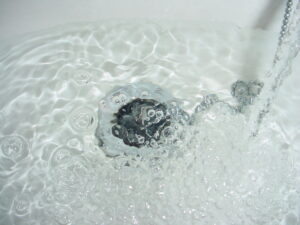 At Barron Plumbing, we offer much more than simple repair and maintenance services. We provide peace of mind through products and services that bring customers throughout Northwest Washington comfort, health, and efficiency. Call on our team for your drain maintenance and sump pump services. From preventing leaks, to drain cleaning and sump pump maintenance, the health of your plumbing system is key to the health and performance of your home.
Why Does Drain Maintenance Matter?
Dealing with a clogged drain is one of those household chores nobody wants to deal with, but seems inevitable. The fact of the matter is, it's not inevitable. Leaks aren't inevitable either!
In fact, with routine professional drain and plumbing maintenance, you can help your household avoid these frustrating problems.
Before we go any further, it bears mentioning that chemical drain cleaners are never the right solution for your plumbing system. Sure, they are marketed as effective. It seems the definition of "effective" can vary, though. To us, "effective" means a product works without causing further damage. Store-bought chemical drain cleaners eat through clogs, then keep going as their caustic matter eats through the lining of your pipes as well, causing leaks.
The Barron Plumbing team provides professional drain cleaning and maintenance, forgoing these chemical "solutions" with safer methods. Connect with a Barron plumber today to discuss our approach.
Prevent leaks before they start with our maintenance services. The Barron Plumbing Drain, Flush & Maintenance Inspection includes:
Draining and flushing your water heater, extending the life of your equipment and helping you avoid inconvenient water heater breakdowns.
Dye testing toilets to ensure there are no leaks present.
Checking all fixture drains to make sure they're not becoming plugged with items like hair, food, hard water minerals, and soap scum.
Checking and tagging all emergency water shut-offs for proper operation.
And much more—reach out today to find out how your plumbing system can benefit.
These steps ensure your plumbing equipment functions safely and save you money by maximizing efficiency and minimizing costly leaks and clogs.
What Could Happen without a Functioning Sump Pump?
Envision, for a moment, what would happen if your basement or lower portion of your home were flooded.
Any electronics or wiring at ground level would be submerged. Carpeted areas, wood, and drywall would be soaked through. Mold and mildew could develop, threatening the health of you and your family.
This is all possible without a functioning sump pump. We say this not to cause panic, but to highlight the importance of not only having the right sump pump for your living space, but ensuring it's well cared for.
Maintaining Your Sump Pump
Maintaining your sump pump is essential to ensuring that you and your home are well-protected during and after rainy weather or in the event of a plumbing flood. How do you do this? There are two ways:
Test your sump pump's operation once a season, and every time it gets used in a storm or plumbing flood. Visually inspect the system for any signs of damage or wear. This includes checking the cord for any fraying. For a more step-by-step process, reach out to our team.
Schedule preventative plumbing maintenance and allow the experienced team here at Barron Plumbing to check over your system!
Customers enrolled in our Silver Shield Preferred Membership maintenance program receive a comprehensive preventative maintenance visit each year, along with exclusive discounts, and a whole-home plumbing inspection.
Our team of Home Performance Experts has served Whatcom, Skagit, Island, Snohomish & San Juan Counties since 1972 with a mission of Improving Lives™. We look forward to serving you! Contact Barron Plumbing today for quality drain maintenance and sump pump services.