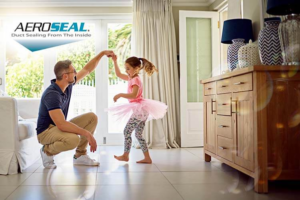 If there is any part of an HVAC system that people don't give a lot of thought or attention to, it's ductwork. Air ducts are typically installed in hard-to-access areas such as attics, crawlspaces, and beyond drywall. We wouldn't expect you to think about this component often, but that doesn't change how important it is.
Your ductwork is what allows the cooled air from your air conditioner and warm air from your furnace or heat pump to get distributed into the various rooms of your home. Dirty or damaged ductwork can lead to a number of problems for your household, which we'll get into below.
If you suspect you may have a problem with your ductwork, or want to learn about our ductwork services, please don't hesitate to contact our Home Performance Experts!
Also, check out our Silver Shield Membership! Our HVAC plan includes a WholeHome™ Performance Assessment includes a full air duct inspection and members can save up to $200 on duct cleaning or Aeroseal duct sealing. Read on to learn more about these services and their benefits.